A snapshot of the Summer Term
The summer term saw hundreds of speakers delivering talks in schools across the UK. Here are just a few examples of speakers sharing their insights and inspiration with students.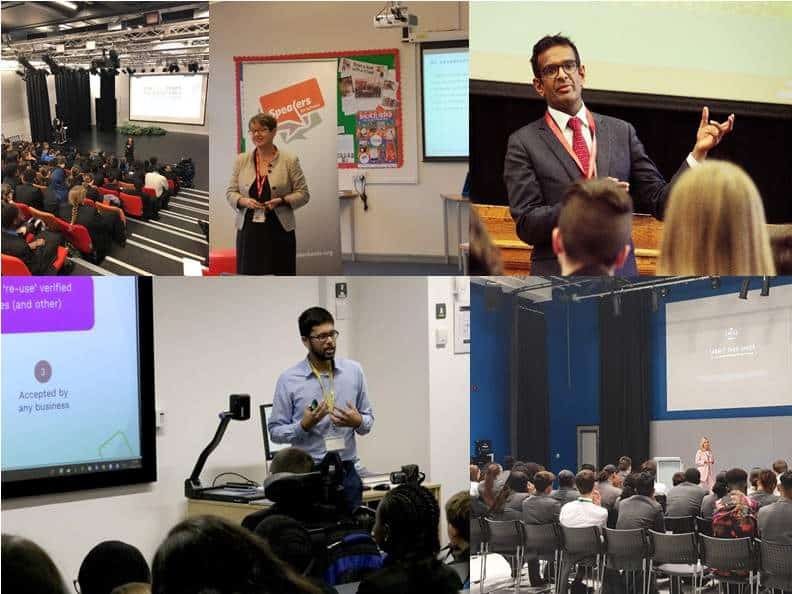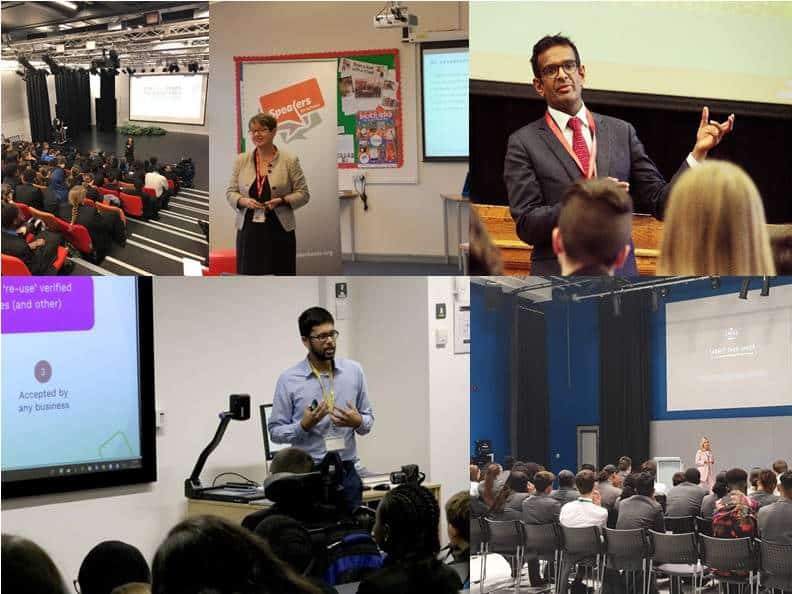 "Be calculated in your careers decisions. Play the chances in your favour. Take advantage of your opportunities."
In June, Fiona Dunsire shared her experiences and advice with a group of Year 12 students at Winchmore School in Enfield. Fiona, Mercer's wealth leader for growth markets described her journey to becoming an Actuary and spoke about how the ability to explain technical terms to clients was just as important as proficiency in economics and mathematics.
Fiona's talk aimed to give students an insight into the industry she has worked in for 26 years. She touched upon the importance of diversity in firms and how diversity of opinions leads to improved outcomes.
The students were quite excited to hear her advice and their questions included 'is it worth learning a second language?' to which she advised the diverse group of students in attendance to ensure they nurture their cultural heritage and endeavor to speak any other language from their cultural background as the world is becoming a global village and language skills are a competitive edge for job seekers in a future market where growth is predicted in countries outside of the UK/EU.
In an answer to a question on apprenticeships, Fiona explained that apprentices were just as useful as graduates and her firm had hired apprentices who were now in the same position in their career as university graduates. She stressed the importance of work experience whilst studying and encouraged the students to seek jobs that made them happy and not just work for the money.
"Do what you love but be flexible in your life. Don't expect everything to go to plan"
Year 9 students at The Winston Churchill School a Specialist Sports College had the opportunity to hear from Paula Cooper, Director, Consumer One, Toyota GB on her experience of the automotive sector and the skills that the sector needs from future talent.
Paula gave a fascinating insight into the ways in which Toyota has been pushing the boundaries of both performance and design in recent years, investing as much in research and development as Apple.
Considering her life at Toyota, Paula talked about working with highly trained, highly skilled technicians. However, the automotive industry in the 21st Century requires people with a far broader set of skills – digital, accountancy, programming, marketing, design to name a few. She urged Winston Churchill students with strong emotional intelligence and critical thinking skills to consider working for her company, as Toyota are continually on the look-out for prospective employees who are able to apply logic and rational thought processes both to solving problems and generating new ideas and innovation.
Paula's talk was particularly valuable for demonstrating to what was, predominantly, a female audience, that there are no limits to what girls can achieve, no restrictions on how girls can prosper in any sector of society; irrespective of the pre-conceptions people may have of the automotive industry, if you can copy the skills and talents of great leaders, if you can learn from your own personal mistakes and be true to yourself at all times, then the possibilities for personal success and accomplishments are endless are infinite. All you have to do is 'Start Your Impossible'.
"It was nice to talk to someone from my background that is now doing so well"
Ruhul Amin, Chief Architect, Onfido, spoke to an engaged Year 8 cohort at Dagenham Park Church of England School. A self-described 'local boy' he told students about his journey from Stepney Green to Oxford University to co-founder of a global technology company.
He spoke about the developments in technology and how it has impacted the way people bank. His company create software that help people verify their identity through their smartphones. The astute students asked questions about the challenges his company may face: 'what will happen when we leave the EU?' Ruhul said that it was an excellent question and that they have a team that work hard to keep up with the developments.
Students asked questions such as 'what advice do you have for a young person who wants to start a business?' He replied that they should 'get working on their idea…. And show investors that it can make money!' and 'do you have any competitors?' he replied by saying that 'having competition in the market inspires him to make his product better.'
He finished his talk by sharing some insights into machine learning; he encouraged those that are interested by this field to research and potentially become inspired by all the opportunities that come from studying STEM subjects.
A huge thanks to all our speakers for donating their time last academic year. Our biggest year to date!