Year 9's had the chance to see Actor Paterson Joseph interviewed about his career, life lessons and opportunities in the creative sectors – they also had the chance to put their own questions to Paterson!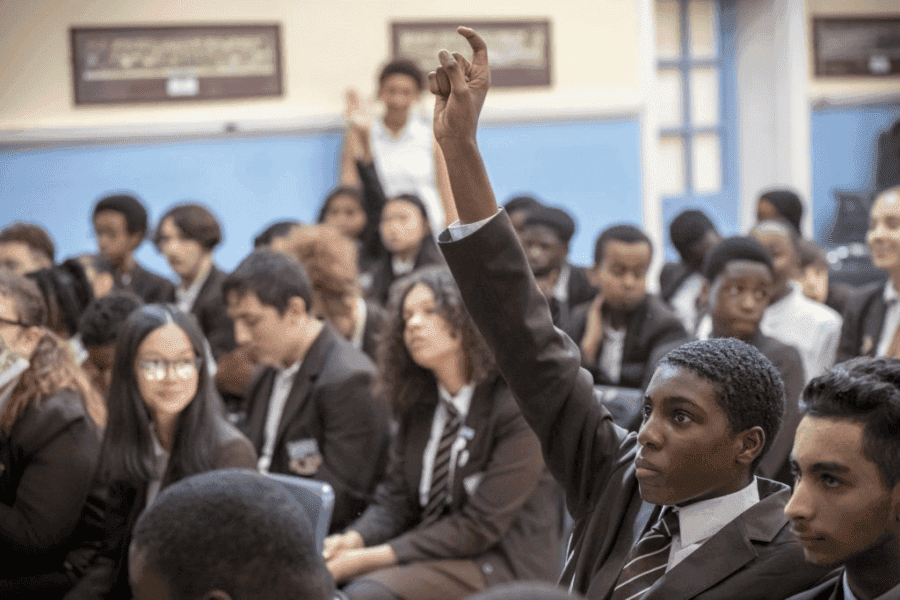 Paterson shared insights from his career and discussed his passion for acting and the creative sectors, telling the audience he wanted to be a chef for a long time as he found it creative but caught the acting bug and 'loves the playful nature of silliness of his job'.
Discussing the impact acting has had on his life, Paterson told students 'being an actor is good for your confidence' and when asked to describe his life in one word he answered 'exciting!'.
Paterson was keen to demonstrate the numerous different roles available that aren't acting advising 'there's lots of other things than just acting – you have writers, directors, costume designers and lighting – there are over 20 different departments!'
Students had the chance to ask Paterson questions about the work he's done and the work he is most proud of – Paterson spoke to audience about Charles Ignatius Sancho, the favourite character he's ever played!
When asked what advice he would give to his 16 year self, Paterson told the group:
'Study more, read a lot more, go to museums, go to galleries and expand your mind. It took me a while to learn that. Go and be curious!'
A huge thanks to Paterson and Addey & Stanhope School!
---
Did you know we're taking part in the Creative Careers Programme – an industry-wide initiative to inspire young people about the wealth of careers opportunities across the creative sector? Delivered by the Creative Industries Federation, Speakers for Schools has partnered with the campaign to help connect industry leaders with state school students across England.
Find out what we're doing as part of this campaign here.
Do you follow us on Twitter yet?