This week students had the chance to hear from Facebook Vice President Nicola Mendelsohn about her experiences that unexpectedly landed her in the tech sector, her top tips for success and the future of technology.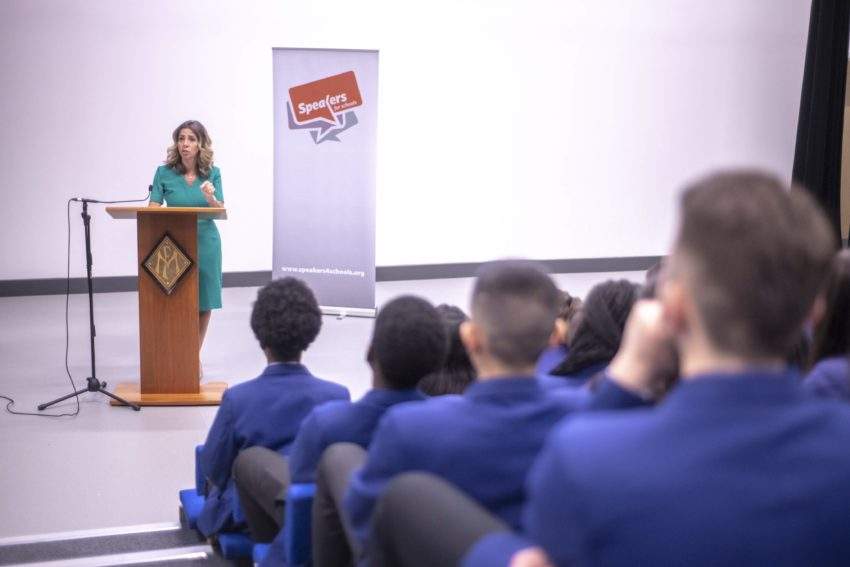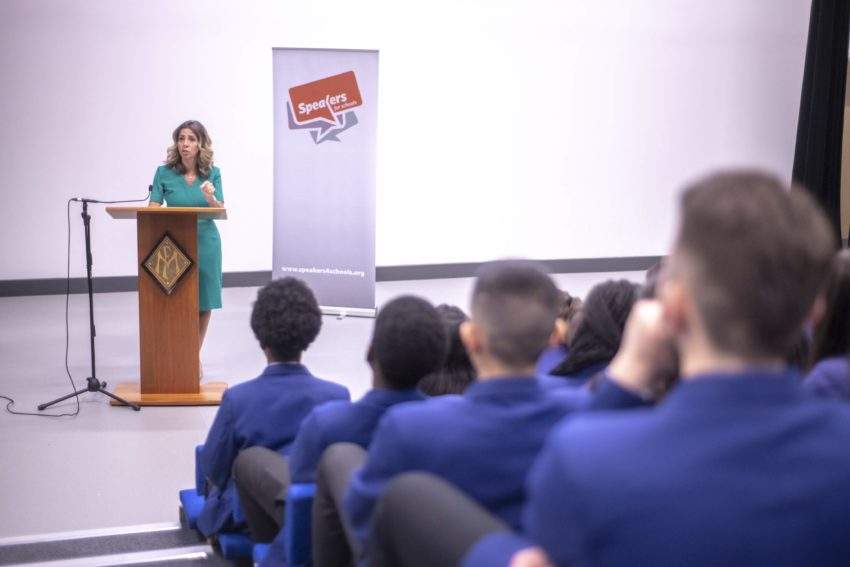 "You are always learning. Do not think that when you finish school- that's it. Learning takes on so many different guises and in a world of tech and in a world of disruption- you can't even begin to imagine the jobs that would exist today, tomorrow, because they are changing all the time. So, stay curious, keep asking questions and really the world will be your oyster!"
Lady Mendelsohn shared insights from her career journey from studying English and Theatre Studies and how, as a teenager, she didn't know her career would take her in to the world of technology, telling the audience, 'Studying English was about following what I love, I also enjoyed religious studies and debate. Questioning has always been at the heart of what I enjoy'.
Nicola also spoke about her move to advertising after graduation, and how she was fascinated by taking a big issue and communicating your message to an audience in 30 seconds or less.
Nicola's journey and move to technology highlighted to students in the room, the plethora of opportunities that are open to them as they will 'probably end up doing jobs that don't exist right now… by 2021 there will be 3.5 million cyber jobs globally.'
She also highlighted the numerous opportunities that are open to young people in tech and particularly highlighting how technology spans across all industries. Discussing the future of technology and careers, Nicola told students there are 1 million vacant tech positions in Europe right now – students found this particularly illuminating: 'What I'll take away for my future career is that there are so many doors open and so many avenues to explore' – Gabriel, Year 12
Year 10 and Sixth Form students had the opportunity to get her candid take on a series of questions from the future of the internet and AI, the responsibility of social media platforms, the use of mobile phones in school, to social media and mental health. A student asked what would help them stand out in their future careers, which lead Nicola to her key three top tips for students:
1. Be curious
2. Be prepared
3. Be passionate
After the talk, Year 12 student Aiseosa told us:
'It was such a unique experience because Nicola is the Vice President of Facebook, this is not someone you're going to get the opportunity to meet every day. It was just nice to ask as many questions as you want to and just find out honest information about what it's like to work in such a global platform like Facebook.'
Teachers were delighted to have the opportunity to host Lady Mendelsohn:
'The students really enjoyed hearing lady Nicola talk about her experiences and will undoubtedly benefit from her advice. She engaged and inspired the students, and she gave insightful answers to some challenging questions posed by them. We are really grateful to Speakers for Schools for organising this great experience for the students at Maria Fidelis.'
Thank you very much to Lady Nicola Mendelsohn and Maria Fidelis!
---
Did you know we're taking part in the Creative Careers Programme – an industry-wide initiative to inspire young people about the wealth of careers opportunities across the creative sector? Delivered by the Creative Industries Federation, Speakers for Schools has partnered with the campaign to help connect industry leaders with state school students across England.
Find out what we're doing as part of this campaign here.
Do you follow us on Twitter yet?