We kicked off the Creative Careers Programme talk series with a whole variety of talks from speakers within the Creative Industries, last academic year. Here is a selection of talks from our speakers, spanning fine art, science, music, publishing and animation & visual effects.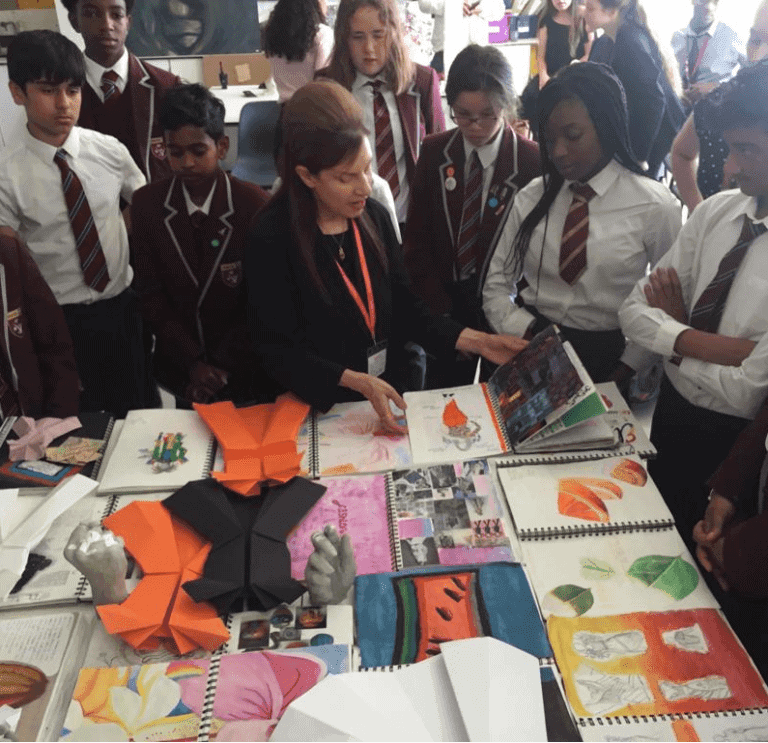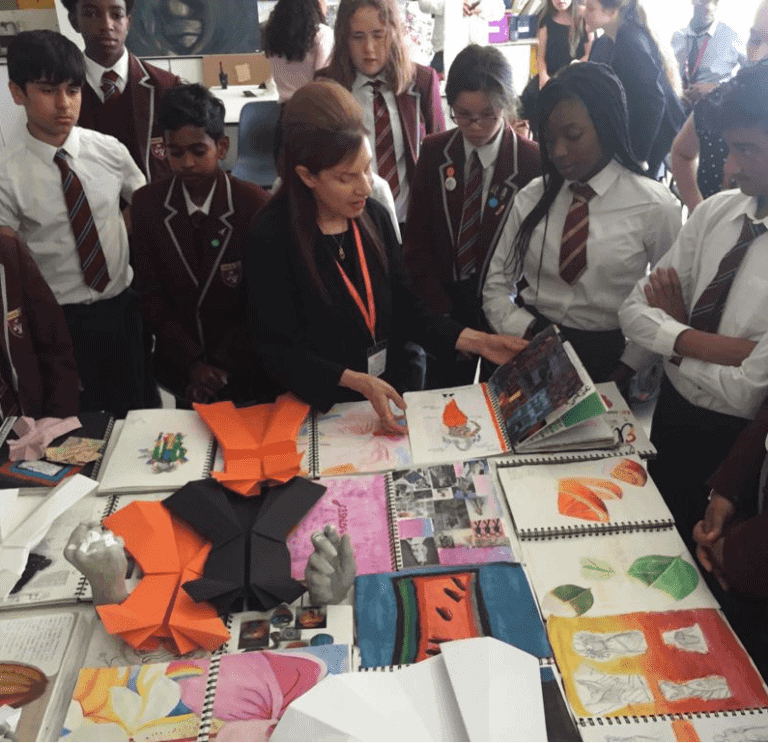 Maureen Paley, Artist and Gallery Owner
World renowned artist, gallery owner and New-Yorker, Maureen Paley spoke to art students at Harris Academy South Norwood. Maureen was one of the first to present contemporary art in London's East End and has shown works from artists including: Turner prize winners Wolfgang Tillmans, Gillian Wearing, and Turner Prize nominees Lawrence Abu Hamdan, Rebecca Warren and Liam Gillick.
She spoke to students about art and the guiding principles that can be achieved through education and observation. Having spoken to the students about her role and passion for the creative industries, Maureen then took the time to look at students' sketchbook/ mood board diaries and discussed them in more detail with the students and teachers.
Nick Soar, Executive Principal, said it was 'A real high point of the year for Art!' and that the Art team were 'totally star struck!'
Philip Dobree, CEO and Joel Airebamen, Senior Animator, Jellyfish Pictures
Phil Dobree and Joel Airebamen spoke in June to Year 10 students of Saint Gabriel's College in Lambeth, about their work in visual effects and animations. Phil Dobree founded Jellyfish Productions in 2002 and the company has worked on Star Wars Rogue One, The Last Jedi, Solo, Outlander, Black Mirror, Dennis and Gnasher and The Floogals.
The pair spoke to students about the growing importance of the creative industries to the UK economy in terms of generated revenue and the employment opportunities available within the creative industries. They emphasised the fact that the creative industries requires people with talents in STEAM subjects (Science, Technology, Engineering, Art and Mathematics) and that the creative industries is not limited to people studying creative subjects, there are roles such as project management, finance, human re-sources, computer science and other support services.
Students listened to Phil and Joel's industry insights and watched a show reel of clips from the work of Jellyfish Pictures demonstrating how a drawing on a page was transformed to the finished animation or visual effect. Joel said, one of the reasons that he enjoys his job is having, 'the freedom to create images and stories that people will enjoy and to communicate ideas and values.'
In the Q+A, students were able to pose their questions to the speakers. One student asked, 'how much did it cost to start your business?'Phil explained that it was a fairly precarious time in 2002, economically, so it was hard to gain investment to start the business. Nonetheless, he began in a small studio space like a 'cupboard with no doors and windows' with two other people and a few computers and due to his hard-work, investment in his staff and providing a high standard work for their clients, he managed to grow his business to one that is considered a leader in its field.
After the Q+A students commented, 'made me consider a career in the creative industries', 'I liked the fact that it is a local company who are based in South London' and 'I did not know about the variety of careers in this industry.'
Tom Chalmers, Managing Director, Legend Times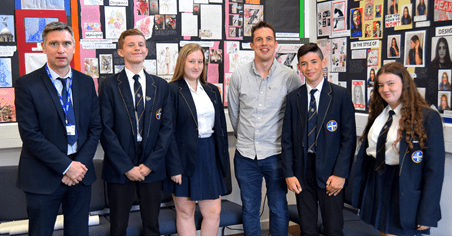 Award-winning, Managing Director of Legend Times, Tom Chalmers, spoke to Year 10 students at All Saints Catholic High School in Knowsley. He spoke to students about his experience running his own publishing business and gave advice for students considering their career choices after school. He started his own company, Legend Press, in 2005 and shared his entrepreneurial  expertise with the students. Tom discussed how to start a business and what qualities employers are looking for in employees. His talk focussed on the importance of hard work and the level of dedication needed to achieve his goals.
After speaking to the students and advising on great interview skills and how to write a good CV, Tom joined some of the students for lunch. Students took part in an engaging Q+A with Tom; Paul Dearing of All Saints Catholic High School said that 'the ambition and confidence, which our young people displayed is really inspiring.' Tom said of the school, 'I really enjoyed meeting the students… it's a great school and it was a very inspiring experience to visit and spend time with the staff.'
Dr Zoe Laughlin, Director, Institute of Making, UCL
Zoe spoke to Year 8's about creativity and science, she has been involved in many recent TV programmes on BBC 2, 4 and ITV in addition to a show on Radio 4. Students heard Zoe talk about the importance of being curious, giving things a try and finding out what interests you.
She also spoke about overcoming personal challenges and making the most out of opportunities that come your way. She also took questions from the well-prepared students. The feedback from students was overwhelmingly positive; here are a few direct student quotes:
'Zoe has inspired me to keep trying with a hobby I gave up on ages ago and try and make something out of it.  She inspired me to carry on through the rough times when people think I can't do it.'
'Our talk was inspirational….she encouraged us to be who we are and not be afraid to stand out.'
'Zoe inspires me to be more creative with art and think about where things I use every day come from'
Fiona Horne, KS4 Progress Leader, said that, 'several students told Zoe how much they admire her and many stayed at the end to have their autograph with her.'
A huge thanks to all speakers and schools supporting the Creative Careers Programme!