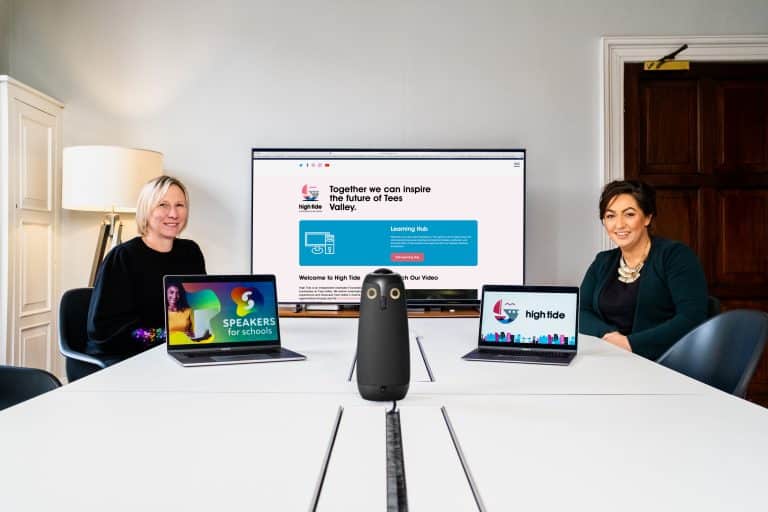 As the UK turns its focus to life beyond COVID-19, businesses and schools must look ahead to what the future holds for economic recovery and for the next generation. Leading industries throughout Tees Valley are joining an ambitious work experience programme aimed at providing online career opportunities for young people. The new virtual work experience scheme will connect young people with local industries such as shipping, finance, law, media and engineering, all at the click of a button.
After the unprecedented challenges of this year, local charity High Tide Foundation had to pause its on-site work placements for young people.  As these opportunities were brought to a grinding halt, young people no longer had the chance to explore career paths or connect directly with employers in local businesses.
Now High Tide is teaming up with national charity Speakers for Schools to reignite the wealth of exciting work experience opportunities and bring them directly to the young people of Tees Valley. Through High Tide, local businesses can connect with young inquiring minds and provide an introduction to careers they may be unaware of. Over the next year, this partnership will connect at least 1,500 young people aged 14-19 to over 100 businesses including PD Ports, Jacksons Law, Active Financial Planners, Casper Shipping, Visualsoft and Intelect to introduce careers they may not have previously considered.
The two organisations are calling upon more businesses and schools to step forward and get involved in the innovative new programme of live, interactive and virtual career experiences.
Chair of High Tide Foundation, Mark Easby said: "We are excited about the potential of the virtual expansion and extending our reach in the Tees Valley region. We will bring on-site experiences back when it is safe to do so, but we must not sacrifice young people's access to career experiences. COVID-19 has heightened worries and anxieties amongst young people relating to career choices and we need to do everything we can to give them the support they deserve. Tees Valley has a huge range of industries to offer exciting pathways and we want to continue to open those doorways to our region's young people."
Lauren Bywater, High Tide's General Manager, added: "Employers in the Tees Valley now have the opportunity to help repair some of the damage that the COVID-19 pandemic has brought about by curtailing work experience opportunities this year. Speakers for Schools alongside High Tide has significant experience in this field and will offer full support to any employer who is prepared to step up and help out.
Jason Elsom, Chief Executive Officer, Speakers for Schools, said: "All we ask is that local industries are prepared to take a little time out of your working week to give our youngsters a helping hand on the careers ladder by introducing them to a working environment. Our team are delighted to partner with High Tide to support businesses every step of the way to create and deliver quality experiences that will inspire, inform and craft career ambitions and progression for young people of the Tees Valley."
If you are an employer or school in Tees Valley and want to get involved, contact Lauren at lauren@hightidefoundation.co.uk, or visit the High Tide website at www.hightidefoundation.co.uk.
If you are an employer or school in the North East region and would like to get involved,  contact Jen Kitching, Head of Region – North East at Speakers for Schools via jen.kitching@speakersforschools.org.