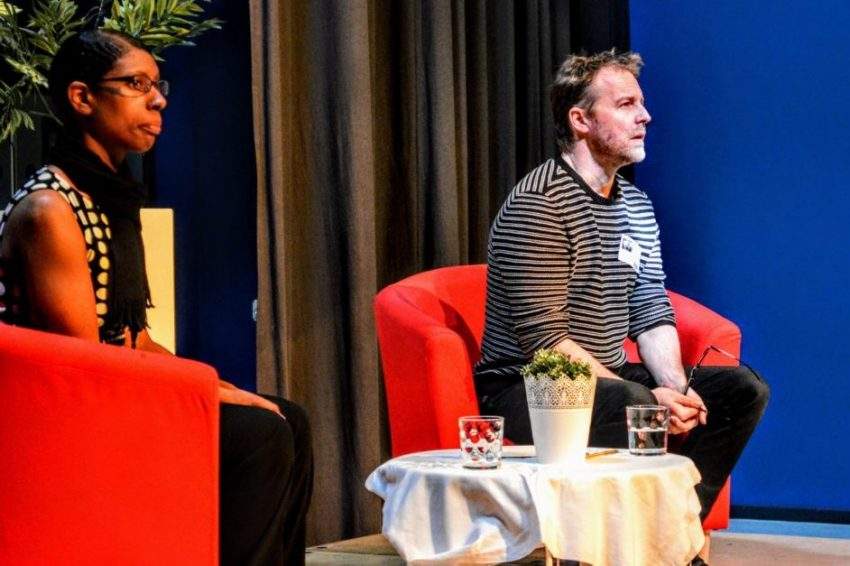 'Acting and drama at school are so important because they 'install' the software that's going to help all the other things to run.'
A thought-provoking metaphor from actor and director, Samuel West. Known for the voice of Pongo in 101 Dalmatians II and theatre work including Richard II, Samuel focused much of his talk on the importance of developing personal attributes such as empathy and courage.
Throughout his talk, Samuel sought to demonstrate how drama teaches vital skills and attributes that can manifest in everyday life.
'Drama teaches you how to have a powerful voice.'
'If you learn the ability to take up space or shine in job interviews; that's going to have such a big impact.'
Encouraging the students to have self-belief and confidence, Samuel also impressed the importance of not fearing failure.
'Don't worry about what other people think of you. Be the type that doesn't judge people.'
'It's OK to fail – it's not about succeeding it's about having a go.'
Samuel also spoke candidly about his career.
'Becoming successful is difficult. It's hard and expensive. But that shouldn't put you off.'
Following this, Samuel left details of local organisations who support budding thespians by helping to cover auditioning costs.
Students also had the chance to ask their burning questions. Here are some of our favourites:
What's the hardest role you've played?
'Hamlet.'
What's the most important quality of a film director?
'Decisiveness.'
What is the difference between being in a movie and being on stage?
'Rehearsals!'
'If you want to be an actor you don't have to go to drama school and you don't have to work on stage. Lots of people have very successful careers and have never gone on stage. But if you want to be the best actor you can be then you should work on stage.'
On working with difficult people, Samuel had this to say:
'Loving is really important for being an actor. When I'm directing, I will try not to cast people who aren't very nice. Being nice pays off.'
The students were left stunned by Samuel's favourite subject at school:
'My favourite subject was physics but my favourite teacher taught English; we're still friends now.'
Thank you very much to Samuel West and to Bow School.
Did you know we're taking part in the Creative Careers Programme – an industry-wide initiative to inspire young people about the wealth of careers opportunities across the creative sector? Delivered by the Creative Industries Federation, Speakers for Schools has partnered with the campaign to help connect industry leaders with state school students across England.
Find out what we're doing as part of this campaign here.
Whilst you're here, why not follow us on Twitter.