This year's first S4SNextGen Employer Best-Practice symposium took us to the fabulous Salesforce Tower. The third of its kind, this symposium sought to share the candid experiences of students and employers on how to achieve an engaging and valuable work experience programme.
The half-day event was attended by employers in the Speakers for Schools network as well as those looking to open up their doors via our S4SNextGen portal.
The participants came from a variety of organisations including National Portrait Gallery, Salesforce, Bank of England, M&C Saatchi, Oasis and Warehouse, Financial Reporting Council, Cisco, Jardine Motors Group, British Airways, WhiteHat and Addey and Stanhope School. We also had a number of students in attendance, sharing their experience of placements at Ofcom, Endemol Shine, Gibson Dunn & Crutcher and Financial Reporting Council.
---
So what were some of the best tips that came out of the day?
"Internal buy-in is the key to expanding and improving"
Shouting about your placement internally is key to internal buy-in for your work experience programme. Our panel recognised that it can be a challenge, especially if you're part of a large national or global organisation but they had some tips for success:
1. The long game pays off
Demonstrating the ROI on work experience can take some time but playing the long game will ultimately pay off, Amanda Morgan-Wilson from Jardine Motors Ltd explained. Taking a long term view can help with senior buy in as this will give you the opportunity to impact monitor your work experience programme. At Jardine Motors Group, they were able to demonstrate that their work experience programme generated a 98% direct hire rate, and improved their gender balance, meaning they were less reliant on agencies as well as reducing the cost of recruitment. S4SNextGen also helps employers understand how to stay in touch with students post-placement, links back to early careers (like apprenticeship opportunities) and is developing tools that will help continue this pipeline!
2. The power of the student voice
Sharing the stories of work experience is one of the best ways to help colleagues and stakeholders see its value. The best way the panel said is to humanise your work experience stories and share the voices of the students themselves in your communications or events.
Mel Kose from British Airways explained how their student ambassador programme puts young people at the core of their placement outreach. Not only does this give your programme a visible, student face, it also encourages an ongoing rapport with BA increasing the chances of work experience students taking on future employment.
Echoing this, Cisco's Sam Moylan-Heydt suggested encouraging student-led content such as video diaries or social take overs that can be maximised across your company's channels.
3.  Staff recognition is vital
Mel Kose also talked about the importance of staff recognition and how they improve internal buy-in by celebrating the contribution that colleagues make to the work experience programme. This can also be by arranging emails or notes from senior colleagues to say thanks, or in her case using an existing staff reception to recognise contributors to the programme. Basic existing parts of your internal culture can be great ways to help colleagues feel their hard work is recognised by managers and the company.
"Engagement with employers yields positive results for young people, period"
Jake Armstrong, a teacher and careers leader at Addey and Stanhope School spoke candidly about the challenges schools face in keeping abreast of industry changes and sharing this in a way that's accessible and useful for young people. Jake was clear that the best way to do this is to ensure are able to meaningfully engage with employers, giving them a chance to leave their home environment and start to build basic professional skills. He quoted the research of Education and Employers Charity regarding the findings that students who had at least 4 employer engagements (of all kinds) over their educational career are 86% less likely to be NEET (not in education, employment or training).
A staggering figure that further cements the value of meaningful work experience for state school students.
"Students value real work"
The S4SNextGen students had a lot to share during their panel session. Featuring students who recently completed placements in Law, Media, Telecommunications and Finance here are our favourite insights from each student. They shared what surprised them, but also how they were able to get a better understanding of the professional work by getting tasters of what a real work place is like which is in itself invaluable for young people. Each shared their top tips and why they thought it was so important for them to take part.
Meliz
Placement: Endemol Shine
"I think it's important to allow young people to flourish and take their career ambitions to the next level"
Meliz suggested that employers should treat their work experience students as if they are one of their employees as this helps to create a meaningful experience for the student. Reflecting on her time at Endemol Shine, Meliz said she was delighted to have been made to feel very welcome by all employees and this helped her relax and make the most of the experience.
Will
Placement: Gibson Dunn & Crutcher
"It feeds ambition."
Enjoying every moment, Will said his work experience helped to reaffirm his genuine interest in law, but he had no idea how many paths were available before his placement. From his placement, Will spoke about the value of demystifying misconceptions about the workplace. As a direct result of his placement, he is now considering a career in real estate law rather than commercial law which he had previously set his sights on.
Will's advice to employers was simple: be sure to offer real work to your students that allows them to see what it's really like, don't worry about it not being special enough.
Ben
Placement: Ofcom
"It's all about the soft skills. I especially improved my time management skills which before the placement were quite frankly awful!"
Ben said his work experience at Ofcom was not as he expected saying he thoroughly enjoyed learning the regulatory processes that go on behind the scenes. With an ambition to work in broadcasting, Ben was already able to apply what he learnt during a future placement whilst shadowing at a local radio station.
Molly
Placement: Financial Reporting Council 
"It was mesmerising to meet employers and have that experience"
Molly was clear about what her placement had offered her. She said she felt a lot more confident and thoroughly enjoyed networking with professionals. Molly suggested that employers should integrate CV writing and interview workshops into the placement as she found these invaluable skills that she learnt at FRC.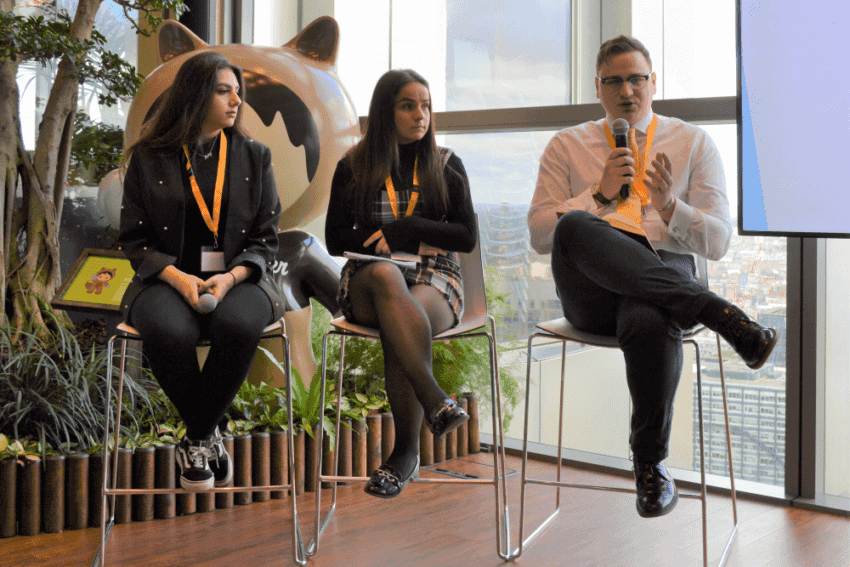 Some quick tips for hosting a successful placement:

Always have a call with students before the placement as this helps to set expectations, puts the student at ease and can be a chance to cover any burning questions
Make sure students can spend quality time with managers showing the different departments or areas within the organisation, helping students put your work in context.
Set aside a full day for the induction, giving students a chance to settle in, meet their peers (if you're hosting multiple students) and will ease any last minute nerves!
Structure the staff management strategically to break it up for colleagues and make it more feasible for more colleagues to take part.
Use an end of week project to get more colleagues involved – so that their interest might be piqued for hosting next year.
Want more help?
Our S4SNextGen work experience programme builds connections between prestigious organisations and untapped talent of state school students.
As a result of our programme, we found that 100% of our students feel more confident after their work experience.
If you're interested in opening the door to the next generation of talent then please get in touch today!

Thank you to all those who attended and took part in this year's symposium We do hope you found it useful and insightful.
Many thanks to Salesforce for being such excellent hosts.
S4SNextGen is a free programme to help support better links between top employers and state schools to connect their students with invaluable opportunities such as work experience. If you are a Speaker or HR/CSR professional interested in further engaging with state school students, please get in touch with us for more information. 
Please visit our website, www.S4Snextgen.org!