Over 150 students in South London had the chance to see Jamal Edwards interview Naomi Campbell about confidence, resilience, diversity in fashion and making time to give back.
Naomi shared insights from her career from being scouted in Covent Garden at 15 to becoming the first Black woman on the cover of French Vogue. Jamal asked Naomi to discuss the important of confidence and how you can tackle a lack of confidence as a teenager, 'Confidence comes from education, you should never allow anyone to your drive and your passion – always do your best to thrive, and never take no for an answer.'
Naomi also spoke about her need to prove to her mom that she could stay focused on her studies and model at the same time. Naomi reflected on her journey and how she dealt with rejection and set-backs, 'I was able to cope with rejection as I felt what it was like at an early age – I've been working since I was 5 years old. There is always rejection and you have to to embrace it.'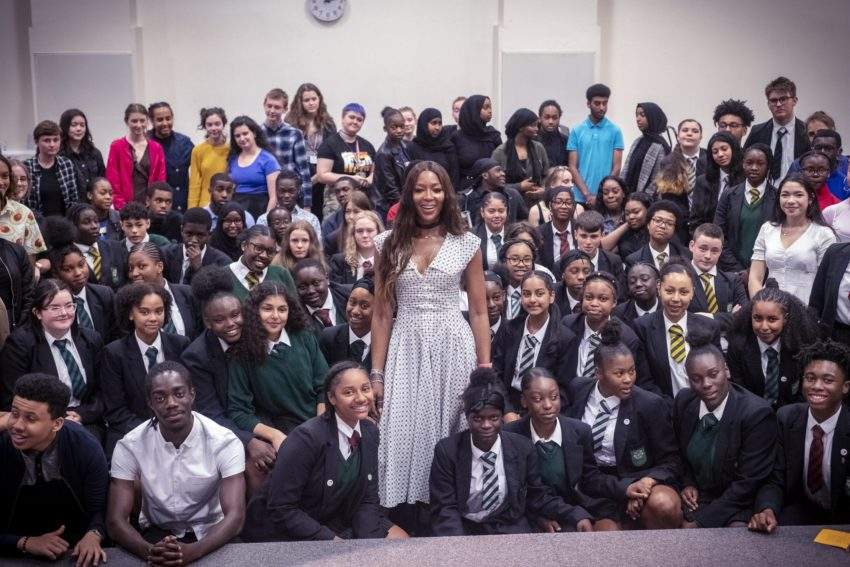 Naomi launched her philanthropic venture, Fashion for Relief in 2005 and explained how we she was able to turn around the charity from idea to event in 7 days flat. Key to this success was being able to ask for support and having the confidence to go to the very top, 'the worst someone can say is no.'
Year 10 and Sixth Forms student had the opportunity to ask Naomi and Jamal about diversity in the fashion industry, their definition of success and top tips and who inspired them. When asked 'If each of you could sum your career up in three words what would they be?' Naomi replied 'colourful, blessed, grateful' and Jamal 'exciting, testing, grateful.'
Thank you very much to Naomi Campbell, Jamal Edwards and Elmgreen School!
---
Did you know we're taking part in the Creative Careers Programme – an industry-wide initiative to inspire young people about the wealth of careers opportunities across the creative sector? Delivered by the Creative Industries Federation, Speakers for Schools has partnered with the campaign to help connect industry leaders with state school students across England.
Find out what we're doing as part of this campaign here.
Do you follow us on Twitter yet?