Tessa Matchett encourages students to pursue their dreams
Tessa Matchett is head of press at ITV. Her message was simple: find what you love and pursue what you enjoy.
"You're going to work for a long time. It's important to find something you love and enjoy."
Much of Tessa's talk was centred around life lessons and why it is so important for the students to have self-belief.
Originally from the 'East End', Tessa was the first person in her family to go to university.
"None of my family had been to university, but my friends encouraged me."
Tessa also discussed how she broke into the PR world:
"After university, I worked for East End Life, the first ever weekly colour newspaper."
"Working in the newspaper showed me the world of PR. Once I started to work in PR – it just felt right."
Now the head of press at ITV, Tessa had some top tips for students looking to break into the media:
Immerse yourself in the news
Practice your writing skills
Be creative
Never stop researching
If you can, try and get some work experience!
"The biggest mistake you could make it not aiming high enough"
Deputy Chair of the National Trust, Orna Nichionna studied electrical engineering in her hometown of Dublin before studying for an MBA at the Havard Business School. Last week, she spoke to students in West Sussex about why you should always strive to achieve your best.
Orna was the first female partner (in their London office) at global consultancy management firm, McKinsey & Partners. Now the deputy chair of National Trust and the non-executive director at Burberry, Orna remained grounded despite her success:
"My mum was my role model when growing up."
The importance of perseverance and striving to achieve your best was a pervading theme of Orna's talk. She had 2 valuable messages for the students.
"The biggest mistake you could make it not aiming high enough."
"Apply to the best and leverage your talents."
Creativity and empathy, she stressed, are two skills that AI and computers cannot compete with, reminding students to always keep an eye of what is happening in the world around them.
Dame Vivian Hunt DBE inspires students to be bold and fearless
Dame Vivian Hunt DBE has an extensive and impressive career under her belt and currently holds the post of Managing Partner at McKinsey & Partners. Last month, she headed to Park View School to speak about why students should be brave and confident.
"Be bold in your choices and fearless in your decision making."
Speaking from her own experiences, Dame Vivian reassured the students that she didn't know what she wanted to do after school but instead based her choices on what "I enjoyed, what I was good at and what gave me options for the future."
"When I was at school,  I wanted to be a sculptor and studied ceramics."
Our favourite question from the Q&A: What piece of advice would you give your 14-year-old self?
"To be more fearless, take bigger decisions and be braver and bold."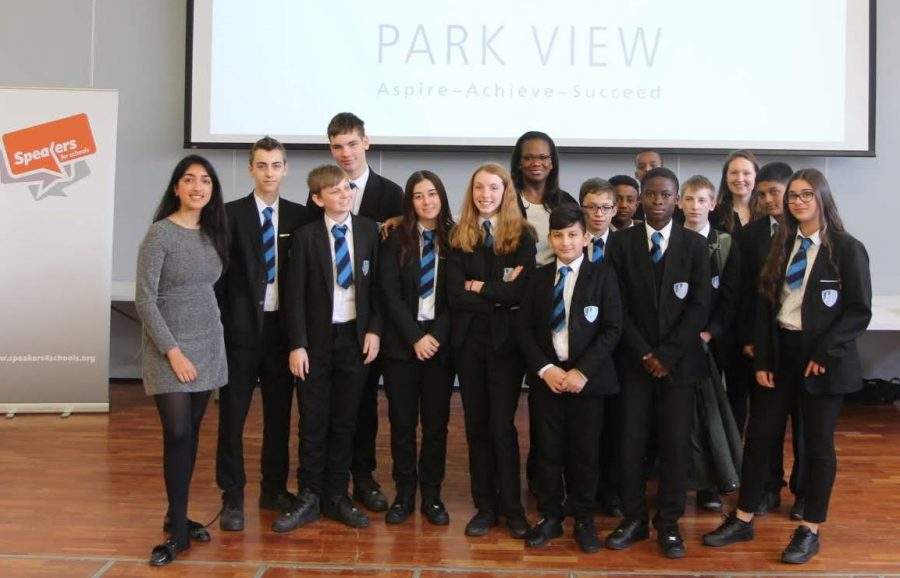 We would like to extend a huge thank you to Tessa Matchett, Dame Vivian Hunt DBE and Orna NiChionna for taking the time to give such wonderful and important talks this term. Thank you very much to Hazelwick School, Park View School and George Mitchell School for being such excellent hosts.