Last month, Industrial Light & Magic participated in Speakers for Schools' Speaker Programme and S4SNextGen Work Experience Programme.
First, year 9 and 10 students at Thomas Tallis School had the opportunity to hear from one of the Visual Effects industry's top figures, Louise Hussey. A few weeks later, ILM hosted their first S4SNextGen work experience and opened their doors to four Year 10 students from Cardinal Pole Catholic School and George Mitchell School.
During Louise's talk in Lewisham, she shared her insights and experience with students as well as her top pieces of advice on how to start out in the world of VFX.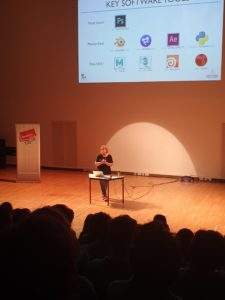 Louise started her industry insights talk by telling students that the key to getting into the sector is to keep applying for entry level roles and not giving up at the first hurdle, 'I applied for a hundred jobs before hearing back from one'.
She then went onto explain to students the difference between special effects and VFX – special effects being the physical (like costume make-up) and VFX being computerised. Louise included in her presentation to students some stunning visuals of content that ILM has been involved in making.
There are a variety of roles within a VFX company like Industrial Light & Magic (ILM) with each department working together to create magical worlds, characters and scenes. The departments include:
Art Dept
Layout
Digital Model Shop
Look Development
Generalist
Animation
Louise went on to show students some of ILM's work and how all the departments work together to create frame after frame of the filmmaker's imagination. The audience were intrigued to see just how many 3D assets are needed to create one scene, character or background.
There were also some top tips from Louise to students who are interested in working in the VFX industry, 'This is an industry with a huge amount of opportunity':
Learn how to frame an image

Find out more about the design and technical skills needed to create 3D models

Learn the programme, there are several resources online to do so

Keep on creating – make short films on your phone

Research – know about what's going on in the industry and watch films! Keep up to date by researching and watching VFX breakdowns online.
Louise encouraged students to have a look at companies who help young people starting out in the industry. She also explained that both the apprenticeship and university routes can help you get your foot in the door but if you keep creating, you'll develop the technical and creative skills that will get you noticed.
Following on from this Industrial Light & Magic opened the doors of their Central London office for top work experience for four S4SNextGen students; Tanita, Bianca, Dennis and Michael. ILM aims to reach more students with their placements and especially offer the opportunity to students that wouldn't have access to the industry otherwise. They were excited to host younger students to inspire their career and education choices.
Amy, the ILM work experience organiser, explains why they are taking part in S4SNextGen.
"We thought we really wanted to have young people, year 10 and 11 that could come in to know what departments work and what careers options there are especially when choosing their A-Levels and S4SNextGen has been actually, really amazing in terms of accessing many different students from different backgrounds."Amy Backwell, host, ILM
The students spent time in various departments as part of their rotational placement. Most of the students were surprised with the diversity of departments, which they admitted they didn't expect. The students agreed that it was a valuable experience and they feel significantly better informed about the world of work and their future options.
Participating students tell us what they learnt during their placement.
"Work experience helps you more with skills that you understand when you do Work Experience, whereas if you just do the research you wouldn't find that much information."  Bianca, 15
Louise's talk and the ILM work experience introduced students to just one part of the UK's creative industry. There are so many opportunities that students can find out about through The Creative Industries Federation's Creative Careers Programme. You can see how Speakers for Schools and other organisations are involved in the programme here.