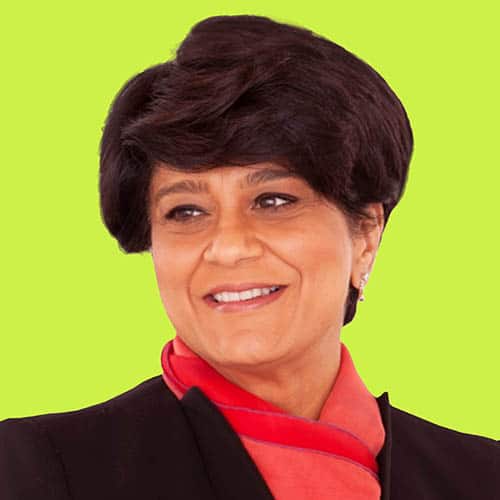 Baroness Shriti Vadera
Chair of Prudential Plc
Shriti Vadera is Chair of Prudential Plc. Shriti was Chair of Santander UK from 2015-2020 and until recently Senior Independent Director of BHP.
Shriti was Non-Executive Director at Astra Zeneca Plc between 2010 and 2019, Chair of the European Financial Services Chairmen's Advisory Committee on EU exit negotiations from 2016-2019, and Co-Chair of the No10 Business Council for Financial and Professional Services 2019-2020.
Between 2009-2014, she undertook a wide range of assignments such as advising the South Korean Chair of the G20, two Eurozone countries on the Eurozone and banking crisis, the African Development Bank on infrastructure financing, the Government of Dubai on restructuring the debt of Dubai World and a number of global investors on strategy.
From January 2008 to September 2009, she was Minister for Economic Competitiveness & Enterprise in the Cabinet Office and Business department, working on the Government's response to the financial crisis. She was a key architect of the bank recapitalisation plan and G20 London Summit. From June 2007 to January 2008 she was a Minister for International Development in DfID, responsible for development policy and aid to Africa and India.
Prior to her Ministerial role she spent 8 years on the Council of Economic Advisers, HM Treasury. She was responsible for advising on international financial and development policy, business issues, productivity, enterprise, PPPs, and public enterprises.
Before joining the Council of Economic Advisers she spent 14 years in investment banking at Warburg/UBS, in banking, capital markets, project finance and corporate finance internationally. She also advised governments of developing countries on a range of issues such as debt restructuring.
She was a trustee of Oxfam between 2000 and 2005 and has a degree in Philosophy, Politics & Economics from Oxford University. She was born and lived in Uganda until the age of 8 and in India until the age of 15.