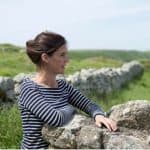 Dr Anna Keay OBE
Director, The Landmark Trust
Anna Keay is a writer, historian and curator, with a special interest in 17th-century British history. Anna became Director of Landmark in July 2012, following two years as a Trustee.
Born in the West Highlands of Scotland, Anna was educated at Oban High School in Argyll and Bedales in Hampshire and read history at Magdalen College, Oxford, where she won two academic scholarships. Her PhD on court ceremonial in the reign of Charles II was supervised by Professor John Miller at the University of London.
From 1996 to 2002 Anna worked as a curator for Historic Royal Palaces, which looks after the Tower of London, Hampton Court Palace, Kensington Palace, Kew Palace and the Banqueting House in Whitehall. From 2002 until 2012 she was Properties Presentation Director of English Heritage, responsible for curating and presenting to the public 420 historic sites across England, from Stonehenge to Kenwood House.
Anna has published several books, including The Magnificent Monarch: Charles II and the Ceremonies of Power and The Last Royal Rebel: The Life and Death of James, Duke of Monmouth. Anna co-wrote Landmark: A History of Britain in 50 Buildings with Landmark's Historian Caroline Stanford, and has presented several TV documentaries – most notably the six-part Channel 4 series about the Landmark Trust Restoring Britain's Landmarks that aired in autumn 2015. In November 2017 she presented Channel 4's Big Ben: Saving the World's Most Famous Clock, exploring the history and restoration behind Big Ben.
Anna is a Trustee of The Royal Collection Trust and a non-executive director of Big Yellow Self Storage. Anna is also Governor of Bedales School.
Anna's parents are the writers John Keay and Julia Keay. She is married to Simon Thurley and they have two children, the family dividing their time between London and King's Lynn, Norfolk.
In 2019, Anna was awarded an OBE for services to Heritage.