Flipbook VFX Studio
David Cordon, Head of Film & TV, Flipbook Studio
David Cordon is Head of TV & Film at Manchester's fastest growing animation and VFX outfit, Flipbook Studio. Spearheading the position in 2020, David brought with him a breadth of industry experience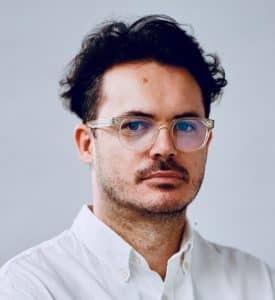 across film, music and visual effects, collecting an impressive roster of blockbuster credits. These credits include work on The Jungle Book (2016), Avengers: Endgame (2019), Christopher Robin (2018), and Annihilation (2018), to name a few.
Originally starting life as a chemistry graduate and lab assistant at the Ministry of Environment in Berlin, David switched careers, co-founding the record label Another Lady Sunday, before joining Honeybee Films as a producer. Learning the trade from the ground up, David moved into the VFX industry, with roles at MPC, DNEG, Framestore and Cinesite. David's knowledge and experience of working across multiple industries from the bottom fuels his passion to empower aspiring creatives in the film industry.
Jo 
Wilkinson, Head of Production
Jo Wilkinson is Flipbook Studio's Head of Production, taking charge of projects from the brief and turning them into a reality.
Jo joined Flipbook nine years ago when it was still a startup, helping grow the company into a multi-faceted, creative production house that leads projects for the BBC, ITV, and Netflix among others. As well as heading up the day-to-day production, Jo is directly involved in the wider creative and strategic decisions and acts as the company's face, bridging the gap between the studio and its clients. As the producer, Jo has been an integral part of all of Flipbook Studio's projects.
Yuval Turgeman, 3D Artist
Yuval Turgeman is a 3D Artist at Flipbook Studio, assisting in the creation of fantastical worlds, animated characters and more for Flipbook's vast range of creative projects.
Yuval has a rich history in 3D, honing his trade as a freelancer across a variety of different projects for a number of years before joining Flipbook in 2019. Since then, Yuval has provided a creative spark in the company, contributing his diverse range of skills in animation and visual effects.
I am sure you are already doing this but, if you could create a Flipbook profile, then we can hopefully grow in number and have more members of the team joining in the future.