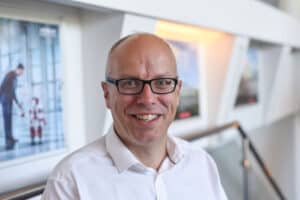 Hans Daems
COP26 Director & Group Public Affairs Officer, Hitachi Europe
As Group Public Affairs Officer for Hitachi Europe, Hans Daems holds responsibility for Hitachi's corporate communications and branding activities across Europe. In addition, he is in charge of Hitachi's global activities as Principal Partner of COP26.
Hans leads the overall co-ordination of Corporate Communications activities, Brand Management, Public Relations, Social and Internal Communications, Advertising, Sponsorship, Events and Exhibitions and Website Management.
He has 30 years of experience in corporate communications. Before joining Hitachi' European headquarters in the UK at the beginning of 2008, he worked in different communication roles in the oil and chemicals sector in Belgium, France and The Netherlands. He holds a Master's Degree in Linguistics from the University of Antwerp as well as a Master's Degree in Communication Science from the University of Ghent.