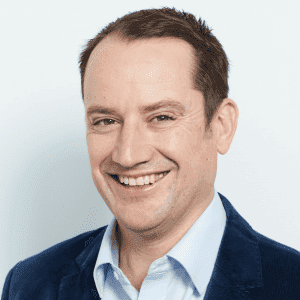 Matt Prodger
Vice President, Cyber & Intelligence Solutions, Mastercard
Matt Prodger is a former BBC journalist who now helps to promote understanding of emerging technologies such as Artificial Intelligence, Digital Identity, Biometrics and Behaviometrics at Mastercard. He is particularly interested in people's relationship with technology and its impact on society. He has previously spoken at schools about journalism, fake news and trust in a digital world.
Matt spent much of his childhood in the Middle East, later attended Banchory Academy comprehensive school in Scotland and studied Politics, Philosophy and Economics at Oxford University.
During a 20 year career at BBC News he worked as a correspondent in Home Affairs, World Affairs and at Newsnight, and he produced news and current affairs programmes across the broadcaster's television and radio outlets. He began his journalistic career at a local newspaper before joining the BBC in 1996 as a reporter.
In 2015 Matt worked for the Commonwealth Secretariat and then as a Director of Communications in quantitative finance, before joining Mastercard in 2018 as Vice-President in Cyber and Intelligence Solutions.