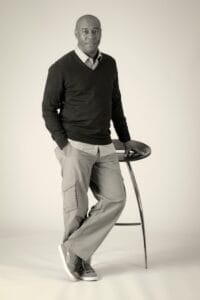 Mervyn Lyn
Partner, Strategic Partnership Solutions Ltd
For the best part of 35 years Mervyn has been at the coal face of contemporary music, helping break some of the most iconic artists in the world.
He was born in Jamaica and came to England in 1967 with his three brothers, their parents left them in the capable hands of their grandmother while they set up home in Edmonton, London.
Like plenty of their black peers their parents worked hard for London Transport and encouraged them to do better. They all very much did.
Mervyn began DJ'ing in 1978 and was soon running his own events so it wasn't long before he 'entered the game' working at Blues & Soul Magazine before going Virgin Records as Black Music Promotions Manager.
After a successful sting working artists like Soul II Soul, Loose Ends, Carrol Thompson among others he left to head the European arm of Sleeping Bag Records who had artists like Todd Terry, Mantronix, Joyce Simms and EPMD on their roster.
The big independent music crash of 1991 saw Sleeping Bag go under and many other independents followed or were swallowed up by the majors.
It wasn't long before he returned to the market as Head of Marketing for Motown Records UK. Less than a year later he was appointed GM Motown Records International, responsible for its interests in all territories outside The US.
Mervyn was responsible for the international roll out of Boyz II Men, Shanice, the resurgence of The Temptations with "The Jones", Stevie Wonder and the return of Lionel Richie.
After some four years with Motown Mervyn moved to BMG to look after what soon became some of the biggest labels in black music. Working with Arista Records and RCA he steered marketing for Bad Boy Records, Loud, Rowdy and La Face.
We supervised the European launch of The Notorious B.I.G, Outkast, Usher and Alicia Keys.
Mervyn was made VP Marketing & Promotion for SonyBMG following the merger and then taking the domestic role of VP Marketing Sony Music Entertainment.
His last role within the company was as VP Strategic Partnerships directing the partnerships of their artists with brands.
Mervyn set up his company in 2012 helping brands partner with talent in music, sport and entertainment to amplify their messages. Hid first clients were MasterCard and he completed successful partnerships around The BRITs, UCL Final, Rugby World Cup and Priceless Surprises comprising their Priceless Gigs series.
As well as running his agency Mervyn is also a trustee of Arms Around The Child, The AP Foundation and is a board advisor of 56 Black Men, Diaspora UK and Dummer Boy Studio.
Mervyn is a champion of diversity, equality and inclusion. Her serves on the EJAG board (Equality and Justice Advisory Group) for The BPI (British Phonographic Industry). He is also a member of UK Music Diversity Taskforce.