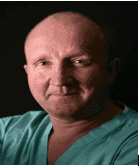 Mr Paul May
President Society of British Neurological Surgeons, Clinical Chair Trauma Programme of Care Board NHS England
Paul May is is the Senior Neurosurgeon at The Walton Centre NHS Foundation Trust. He was appointed as Merseyside's first Paediatric Neurosurgeon in February 1991
He is responsible for the founding and development of the paediatric neurosurgical service now based at Alder Hey. This is now the largest paediatric neurosurgical service in the country and Paul was the first neurosurgeon to work between the two sites, Walton and Alder Hey . In 1997 he was responsible for bringing Supraregional Specialist Craniofacial Services to Merseyside being one of only four centres in the country. He developed the paediatric epilepsy , tumour and neuroendoscopy services at the Royal Liverpool Childrens Hospital.
In 2007 he was president of the International Society of Paediatric Neurosurgeons meeting in Liverpool , the first in the UK .
He is currently the President of the Society of British Neurological Surgeons ( SBNS) , the first from Liverpool to do so in the societies 92 year history . He was previously SBNS vice president and council member, SAC member and Intercollegiate Board examiner .In 2017 he brought the SBNS meeting to Liverpool ,jointly with the Congress of African Associations of Neurosurgeons.
Since 2013 he has been Chair of the Adult Neurosurgical Clinical Reference Group and is currently the Clinical Chair of the Trauma Programme of Care Board for NHS England .