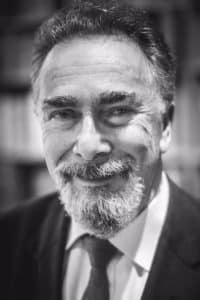 Peter Rosengard
Life Insurance Salesman and Comedy Store Founder
1958/65 Education: Latymer Upper; London University (studied dentistry for a week, "I didn't like teeth")
1967 June: Volunteer, Six Day war ("If you're going to volunteer for a war, make sure it's a 6 day one, I washed up dishes")
1968 Dish Washer / DJ in Stockholm: "I was fired for breaking the dishes…and scratching the records"
May 1969: Became life insurance salesman at Abbey Life and broke all sales records
October I976: First salesman to sell 100 policies in one month
June 1990: Sold world's largest life policy – $100M – still recorded by Guinness Book of Records
August 1995: First time father at 48 with the birth of daughter, Lily.
Dec 2012: Zurich's top salesman for 10th year running.
Hobbies:
Writing – 2009 Jewish Chronicle monthly columnist JC Independent: 1991/1995 contributor.
Painting / drawing – "I'm drawing everyone in London"
…and of course, talking to strangers
– – – – – – – –
Peter is the co-founder of the London Comedy Store and is widely considered to be one of the world's most successful Life Insurance salesmen.
Peter founded and chairs the Education charity SINCE 9/11 www.since911.com and is happy to speak about 9/11 – the events, causes and consequences etc and its importance in a world challenged by terrorism.