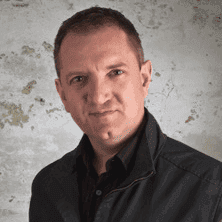 Phil Critchlow
CEO & Founder, TBI Media
Phil is CEO & Founding Director of multi award winning Production Company TBI Media. www.tbimedia.co.uk He has developed and delivered some of the highest profile projects across many genres and media platforms in the UK and internationally. As well as leading major factual and speech based output he has a personal specialisation in music & entertainment, from delivering full symphony orchestras to BBC television, to cutting edge dance for BBC Radio 1. This means he's worked directly with some of the worlds highest profile performers and presenters in some of the most iconic locations.
TBI will produce around 600 programmes for broadcast this year, ranging from regular strand output for the BBC and commercial clients to major broadcast events for radio, television, on line and live cinema. The company will also produce over 100 none broadcast events globally in locations ranging from Wembley Arena to the royal Albert Hall to The London Palladium in the UK, an internationally in countries ranging from Japan to Australia to Russia to America and Europe
Senor industry roles have included Founding Director and Chair of Audio UK (Formally RIG). This has involved liaison with the most senior figures in broadcasting and Government. None Executive board positions include or have included 'The Educational Recording Agency', 'Ronnie Scotts Jazz Club', 'Classic Gold Networks' and 'The Wavendon All Music Foundation'. Phil now sits on the DCMC Creative Industries and Arts Expert Trade Advisory Group (ETAG) offering thought to government on international trade in UK media. Phil was made a Fellow of The Radio Academy in 2016 and was given a lifetime achievement for services to broadcasting in 2018.
His career began as a BBC trainee. Following production across the corporation he moved to Unique Broadcasting where he rose to Director Of Programmes overseeing many millions of pounds of production across thousands of hours of output. During his time on the management team the company was listed on AIM.
On incorporating TBI Phil said : 'When I started in the industry it was clear that things were going to change, but the revolution has proved to be more profound than we could ever have imagined. One thing remains constant though, the need for great content. Every media platform needs bold and ambitious ideas – that's what we're in business to provide'.