Healthcare Heroes: Look behind the mask and explore NHS Careers (3 day virtual work experience)
Healthcare Heroes: Look behind the mask and explore NHS Careers (3 day virtual work experience)
---
Age: 14-16
Duration: 3 days
Industry: Healthcare
Application deadline: 10/06/2022
Dates: 20/06/2022 – 22/06/2022
Times: 9am – 12:30pm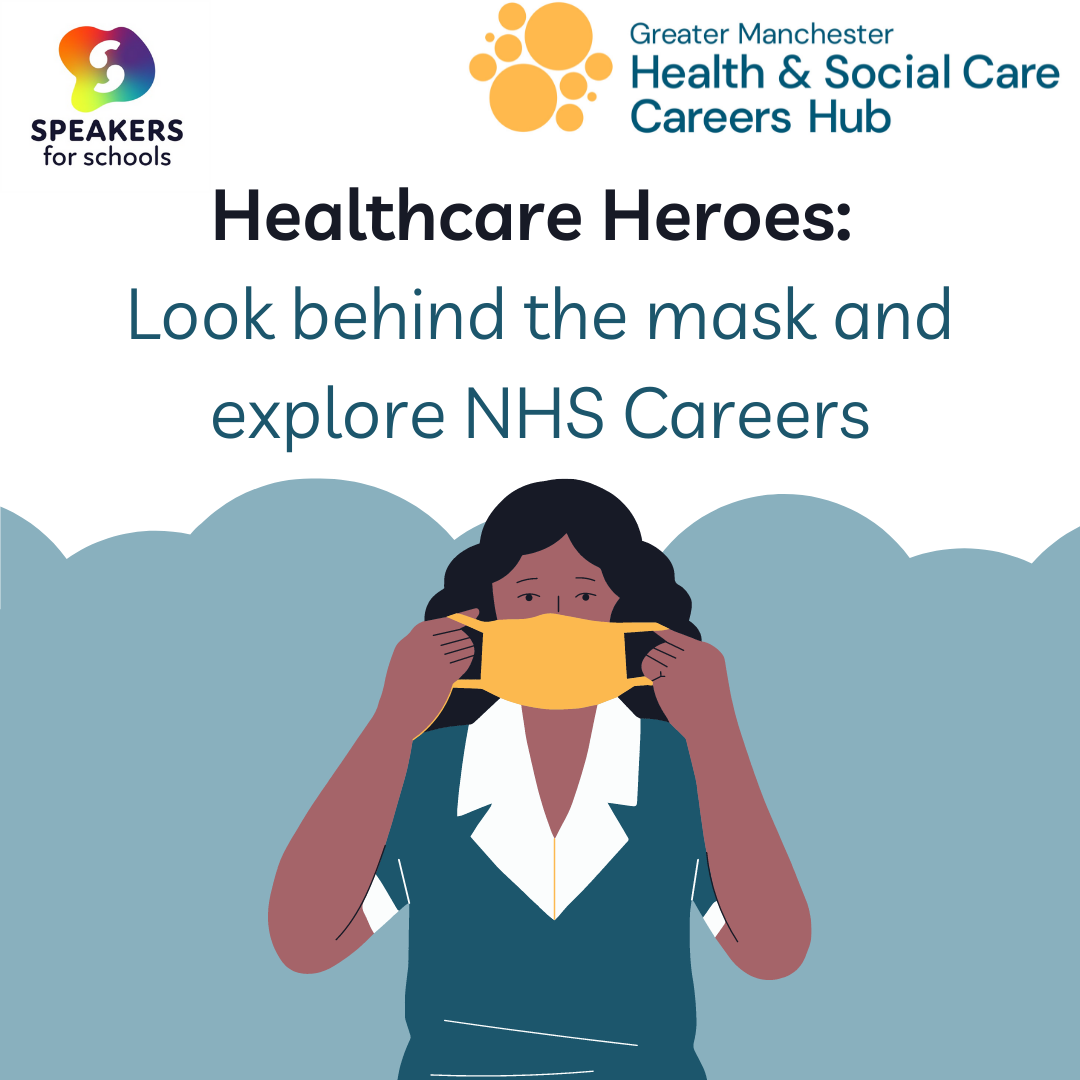 Interested to find out more about nursing, allied health and healthcare science roles within the NHS? Heard the titles but unsure what they are? Aged 14 – 16? Then join this Virtual Work Experience to find out more.
Join Greater Manchester Health & Social Care Careers Hub in our 3 day virtual work experience from 20th – 22nd June 2022. During this virtual placement you will have the opportunity to investigate the variety of roles within clinical and research areas within the NHS and speak with employers/employees.
Each day will be 9am-4pm (there will be set comfort breaks throughout the day).
Participation in the full three days is compulsory.
This session is ideal for anyone interested in science, medicine, or healthcare.
As part of this work experience you will complete a research project and presentation in which you will investigate the opportunities within the NHS. You will present this to a panel of senior staff within the NHS. Through out the three days you will learn about a range of areas such as Nursing, Allied Health and Healthcare Science and will be able to ask professionals questions about their roles.
In this session you will cover the following:
Nursing professions
Allied Health- this may include: physiotherapists, dietitians, speech and language therapists, radiography
Health care science- which includes: research, microbiology, genetics, radiotherapy physics
Key skills needed for the NHS
How to enhance your applications
Public speaking skills
As part of this work experience you will develop and deliver a short presentation on the roles within the NHS. You will be expected to work in a team with your peers, and develop communication and team working skills which are essential for the NHS.
You will also get the opportunity to engage with NHS staff and ask any questions you may have about working in this field.
Looking forward to seeing you at these sessions.
When applying, answer the following questions
What is your current career aspiration?
More about what we do:
The Greater Manchester Health & Social Care Careers Hub acts as a catalyst and a single point of contact for anyone interested in the careers opportunities in the sector. Individual learners are supported by providing an understanding of the range of different careers pathways available to them as well as sign posted to resources, work experience and vocational opportunities to aid with a career in health and social care. Educators and careers professionals can access the Hub's resources and support with careers events and workshops from both the Hub team and Career Ambassadors. The sessions range from providing an insight into a specific role or speciality to supporting the learners with producing and using the NHS Jobs website to submit their job applications.
Skills/Experiences You Will Gain:
 Problem Solving
 Speaking
 Leadership