Latest Green Skills survey reveals that more than half of young people lack guidance on green job options at school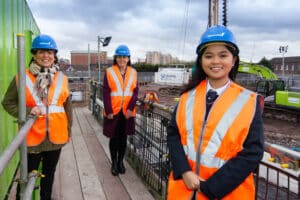 A new survey carried out by our charity of 1,200 young people aged 15-18 who attend state secondary schools and colleges throughout the UK has revealed that more than half (57%) have not been given guidance on green job options at school.
The survey that canvassed young people's knowledge and appetite for pursuing a green job showed that while 63% of young people said they know what a green job is, over half (56%) aren't sure about the required skills and qualifications to get one.
Responses to other questions in the UK-wide survey indicate that young people also deeply care about climate change and sustainability in the context of employment, with 85% of respondents stating they care about an organisation's carbon footprint and over a third (36%) planning to research an organisation's green credentials before applying for a job.
We published our survey findings only days ago as we embarked on our second annual Green Skills Week campaign to raise awareness among young people about green jobs and pathways into careers in the green economy.
Through this year's Green Skills Week campaign, we partnered with leading companies like SSE, FatFace and Bentley Motors to provide 5,000 work experience placements where young people can learn more about green careers and pathways into new and existing green jobs.
We also invited 44 influential leaders and sustainability experts – including the CEO of Surfers for Sewage and the Chief Executive of The Met Office – to deliver inspirational career talks online and in-person to enable students to gain further insights into careers that support sustainability.
Placements and talks are still in progress and have been very well-received to date with young people like 13-year-old Uzuri from Maidenhead who entered our FatFace competition to come up with a more sustainable solution to package clothing for the retailer, saying:
"I have always been interested in pursuing a career that fulfils my passion for both climate change and creativity, but the job opportunities feel so broad that I am unsure how to go about it or what to look for specifically… this experience with FatFace will help me determine what a job in sustainability would be like with the ultimate aim of understanding what I should do when I leave school and whether it will fit my love of art and the environment."
Our research suggests that Uzuri's confusion about how to translate her passion for climate change into an actual profession is not unusual and highlights just how crucial improving careers education surrounding sustainability and the green economy area is.
Like Uzuri, the millions of young people who will form our future workforce are still in education. Our charity is calling on employers and policymakers to join us in championing a more comprehensive careers education that enhances young people's understanding of the green economy and what this means for them in terms of employment opportunities.
The Government's climate change curriculum strategy for schools marks an important step forward in equipping young people with the knowledge they need, but our survey findings suggest that careers education in this area will also need to evolve to prepare our young people for what is to come.
This means providing practical information and actionable guidance that enables every young person attending a state secondary school or college across the UK to do three key things:
to recognise how the climate crisis is changing the job market
to identify tangible examples of green roles that exist already – as well as those that will shortly exist
to know how they can go about getting a green job
We must work together to ensure that the government and employers – like those who supported this year's Green Skills Week campaign – continue to play an active role in helping the next generation to make the transition towards a job market focused on sustainability.
To be better informed and prepared for a greener world of work, we need to empower every young person to become the agents of change we will need them to be.
To find out more about taking part in Speakers for Schools' Green Skills Week campaign, please visit www.greenskillsweek.org.