Empowering

young people
from state schools and colleges
Our mission
Our aim is to level the playing field for young people from state schools and colleges and empower them to reach their potential by providing them with life-changing opportunities that they would otherwise struggle to access.
Our story
Since our launch in 2010, we have become the largest social mobility charity in the UK. We are committed to delivering high-quality and impactful interventions for state-educated students that will transform lives while also using our influence to champion social mobility and improve diversity in the workplace.
What is
social mobility

?

Social mobility is the term used to describe a shift in socioeconomic status – with greater equality of opportunity generally associated with improved status in terms of earnings, income, social class, health, and education.
Why is equality of opportunity so important?
Higher levels of social mobility are a good indicator of a country's economic growth and signify a fairer distribution of power, wealth, and opportunity in society. Yet currently, the UK has one of the poorest rates of social mobility in the developed world.
Research shared in 2019 by The Sutton Trust revealed that, despite accounting for just 7% of the pupil population, privately educated people occupy 45% of 'top jobs' in this country even though their state-educated peers achieve the same grades.
How do we
drive change

for young people?

Since 2010, we have supported more than 1.3 million young people to feel more empowered about their future. From inspirational talks to eye-opening work experience, we offer highly effective ways for 11-19-year-olds to engage with leading employers and high-profile leaders, changemakers, and celebrities to expand their networks and develop the necessary confidence, skills, and knowledge to become better prepared for the world of work.
2,416
state schools and colleges registered
1,597
speakers in our network
Inspirational Talks
Young people can hear from high-achieving professionals and world-famous names by joining live in-person and online events or watching recorded broadcasts to discover the secrets to career success.
Work Experience
Young people can take part in in-person, virtual, or hybrid placements with leading employers like Virgin, Boots, Bentley Motors, the NHS, and hundreds more to develop their employability skills and knowledge of the world of work.
National Teen Book Club
Young people can join our enriching online book club – run in partnership with Penguin – to discover a love of reading, build their confidence, and hear from guest speakers to learn more about careers in publishing and related industries.
Influence
Alongside our programmes, we are delivering evidence-based campaigns that influence the highest levels of government and allow us to establish strategic partnerships to drive large-scale change and advance the cause of social mobility in the UK.
Our latest high-impact national campaign – Work Experience for All – seeks to make work experience a universal right, not a privilege. A star-studded lineup that included renowned chef Tom Kerridge, business leader Deborah Meaden, TV presenter Steph McGovern, comedian Guz Khan, and ITV political editor Robert Peston came together in support of the campaign to recount their own work experience stories and how it shaped their successful paths.
Evidence from this campaign has already shaped many of the recommendations included in the Education Select Committee's latest report on Careers Education, Information, Advice and Guidance.
Slide
Click through
our testimonials to discover our impact
Josh, aged 18 from Darlington, completed work experience with British Airways – following his passion for tourism and desire to make it more sustainable in the future.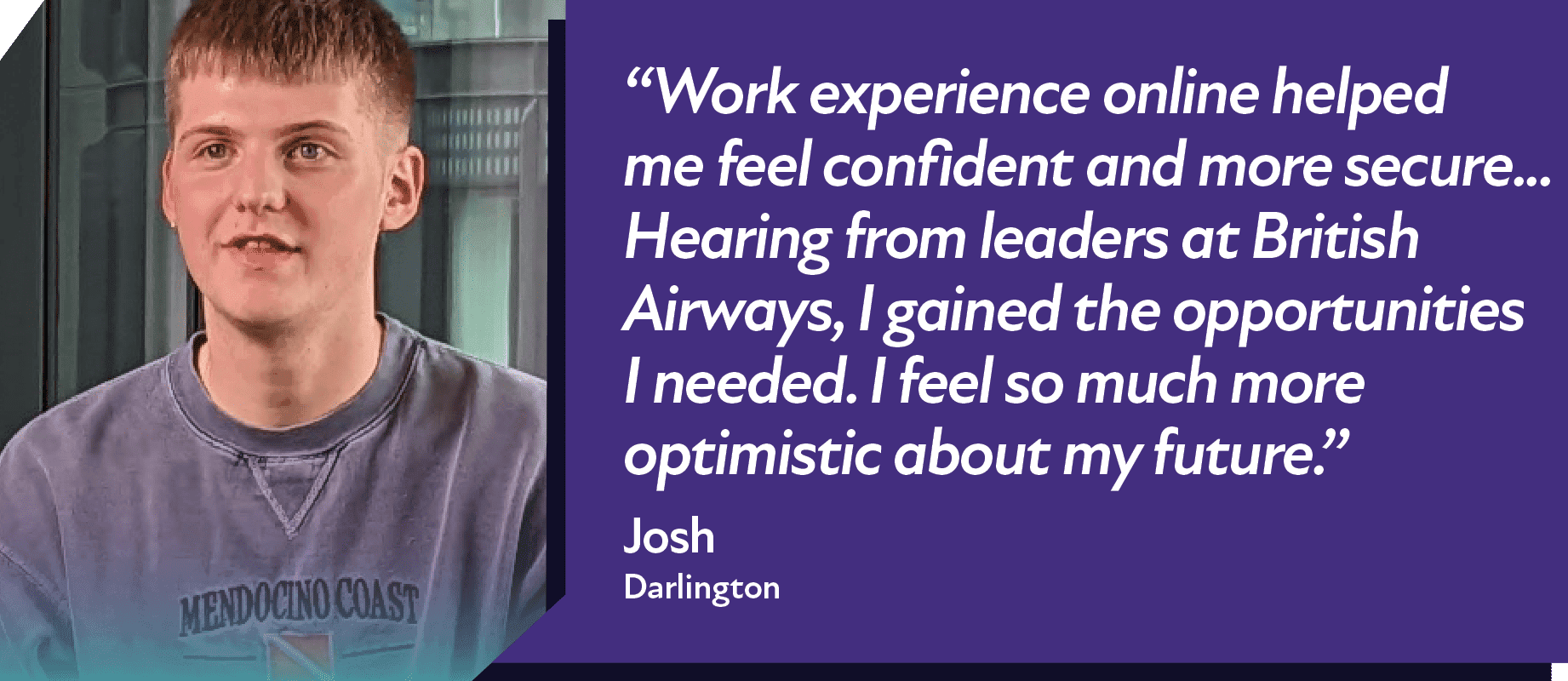 Slide
Click through
our testimonials to discover our impact
Joyce, 17, from London, secured virtual work experience placements with Caxton Associates and the Bank of England which allowed her to build much-needed skills as well as boosting her confidence and CV for the future. She now plans to work in finance and feels much better placed to make this happen.
Slide
Click through
our testimonials to discover our impact
Beau, from Birmingham, completed a 3-day work experience placement with Spaceport Cornwall when he was 14 where he came up with the idea for a satellite-controlled app that the local professional fishing community could use to track fish.
Slide
Click through
our testimonials to discover our impact
Yen Li, aged 18 from Torquay, completed work experience with Bentley Motors supported by volunteers from Bentley's colleague diversity networks to provide students from across the country with insights into STEM careers and opportunities within the automotive sector.
Let's start a
conversation

!