HOW IT WORKS
Our team connects schools with inspiring and influential people for impactful school talks, helping young people to think big and aim high – all for free.
APPLY TO HOST SPEAKERS
All UK secondary state schools, academies and colleges across England, Scotland, Wales and Northern Ireland are eligible to

apply

for a talk.
To take part, a school/college (Headteacher, Deputy, selected coordinator) must submit a completed application on behalf of their institution.
Applicants must understand the commitments outlined in the application form when applying for a talk.
To find out about our speakers and who we work with click here
---
MATCHING SPEAKERS WITH SCHOOLS
When matching a speaker to a school, we consider:
The school's application and teacher statement
Which speaker might be suitable
Speaker availability and location
When the school last hosted
We prioritise under-served schools in high-need locations and aim to reach students with the least access to outside speakers. Unfortunately, schools cannot apply for a specific speaker or specific dates.
Each speaker has different availability and commitments, often with challenging diaries. We work to find a date that suits both parties. For this reason, we ask that schools reply as soon as possible when offered a speaker so that neither party is disappointed!
---
GETTING READY TO HOST
Once we've confirmed a school and speaker, we will put you in touch with one another.
You must have at least one phone call to agree the talk format, key messages, audience age and size.
You can find a full guide for planning your in-person talk here and our full guide for planning your virtual talk here
Of course, we are here to help if you have any issues.
---
PREPARING FOR YOUR TALKS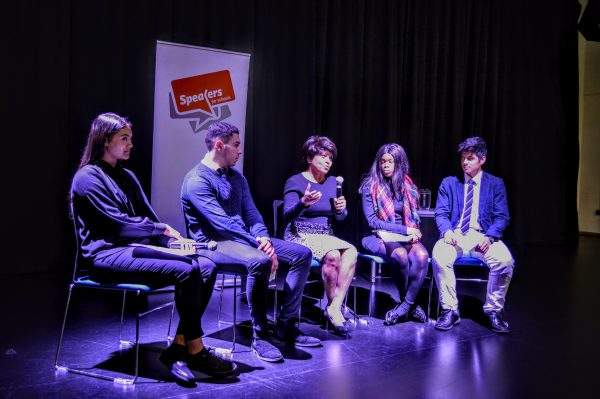 In-person SFS talks are one hour long in total. Virtual talks are around 40-60 minutes long in total.
A key part of any SFS talk is the Q&A session.
For in-person SFS talks we ask that speakers leave 30-40 minutes for a Q&A, allowing for maximum student participation.
For virtual talks we ask speakers to leave around 15-20 minutes of the talk for Q&A.
We advise students to prepare in advance, so they can make the most of the event.
The school/college should be on hand to facilitate the Q&A with a few questions prepared to get the ball rolling.
We have a handy guide to help with student prep here.
---
HOW DID IT GO?
Following the talk, we ask the speaker and the school to return a short feedback form about the event
This is essential to our monitoring and ensuring we create the best quality and most impactful events for your students.
You can see more about our impact here