Proof that a non-conventional career path can really work out: Introducing Ella d'Amato, Chief Commercial Marketing and Partner Officer at Not on the High Street
What do you want to be when you leave school?  
It's a big question isn't it? And it's definitely a question that can cause a lot of stress and anxiety, especially if you're being asked it a lot. 
The truth is you're probably not sure yet and, you know what, that's perfectly normal.  
There are so many expectations placed upon us from such an early age that it's easy to fall into the trap of thinking you need to have a clear road map for your life and career at the age of 16.  
When will you know? 
Ask a roomful of adults what they wanted to be as teenager versus what they do for a living today and you'll probably find that most have deviated from their early ambitions and followed a much less linear route in building their careers. Some may have gone to university, some may have gone straight into training, some may have tried any number of different jobs before they found their way. And some may still be searching for a career that's a good fit for them. 
The long and winding road to success 
Life can be more like a maze than a road map at times. Trial and error play a major part in many people's career journeys, but these deviations can still help you learn and make more informed choices as you move forwards. So-called 'squiggly' career paths are not as unusual as you might think – there's even a best-selling book all about this subject. 
Successful entrepreneurs and business leaders don't get where they are overnight and without setbacks. More likely than not, they've done a spot of squiggling, trying lots of different ideas and adapting until they found something that worked. And you can too. 
A case in point: meet Ella d'Amato, Chief Commercial Marketing and Partner Officer at Not On the High Street
An unlikely role model in some respects, Ella left school at 16 and is a fantastic advocate for the archetypal squiggly career. A naturally warm, friendly, but clearly very driven person, she perfectly demonstrates how important it is to have the right attitude if you want to be successful in any given profession. And she has tried her hand at a great many, including dabbling with conveyancing law, being a practising reflexologist, masseuse and former CEO of leading content agency Drum.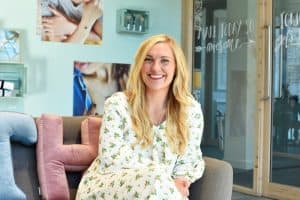 An inspiration to everyone and anyone 
Listening to Ella talk, you cannot help but be impressed by all that she has achieved to date – as a young female, as someone from a less privileged background and as someone who has forged her own way in life on her own terms.  
Role models come in all different guises and Ella's story will not only be hugely inspiring for many young people, but it is also hugely relatable for anyone who has yet to find their true calling or who occasionally suffers from impostor syndrome.  
More than two decades on from finishing her GCSEs and starting her career journey, Ella remains completely open to new experiences and new ways of doing things – whether that's working a few Saturdays shifts in her local florist shop alongside her substantial day job or leading the charge for flexible working at 10 Downing Street. 
This VTalk covers so much that can help you as you embark on your career journey in any industry – from amusing anecdotes to top tips about how to start your own business or how to make your CV really stand out. I guarantee you'll be hooked in the first five minutes and, the next time someone asks you 'What do you want to be when you leave school?', you may just answer differently. 
Listen to the full broadcast with Ella by clicking here.
Interested in a career in digital marketing? Sign up today to apply for upcoming Virtual Work Experience.
If you like this, why don't you also check out the broadcast on PR by Kathleen Alder, Managing Director of Wildcat PR or try listening to the broadcast on Advertising by Steve Davis, CEO of Advertising Producers Association.
Visit our broadcast library to find plenty more inspiring careers talks that you can access whenever you want. You can also check out our list of upcoming live broadcasts here. Simply follow the guidance to find out how to join the live sessions.