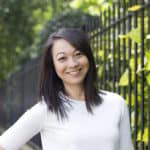 Aki Schilz
Director, The Literary Consultancy
Aki Schilz is a writer, poet and Director of The Literary Consultancy, the UK's first and leading editorial assessment service for writers. Aki has a BA in English and French Literature from the University of Oxford, and an MA in Creative Writing with Distinction from Bath Spa University. After working in various administrative roles including for the NHS, as a copywriter for a large advertising agency, a games production company and a travel website, Aki completed a number of publishing internships (among them Granta Books and Literary Review) and worked as Acquisitions Assistant at Jessica Kingsley Publishers before starting work with TLC in 2011.
Aki is a trained arts facilitator through Eastside Educational Trust, for whom she facilitated literature and literacy-related workshops for secondary school pupils including projects with Adobe Youth Voices, Asia House, and the British Heart Foundation. Whilst at Eastside, she helped in the early stages of development of the Translation Nation toolkit for primary schools (European Label for Language; EuroTalk Primary Education Language Prize).
Aki is the co-founder of the #LossLit digital literature project with publisher at Influx Press Kit Caless, and co-editor of LossLit Magazine. In 2015, LossLit was shortlisted for a Saboteur Award (Best Collaborative Work). She is the winner of the inaugural Visual Verse Prize, supported by Andrew Motion, and the Bare Fiction Prize for Flash Fiction 2014, judged by Angela Readman. Her short fiction, non-fiction and poetry have been shortlisted for the HG Wells Prize and the Fish Prize, and appear in print (Popshot Magazine, The Colour of Saying, Kakania, An Unreliable Guide to London, Birdbook: Saltwater and Shore) and online (tNY.press, The Bohemyth, Annexe Magazine, Cheap Pop Lit, Mnemoscape Magazine, And Other Poems).
In 2014, Aki was appointed as Bridport Prize First Novel Award shortlist judge alongside literary agent Euan Thorneycroft, and in 2016 was on the judging panel for the Creative Future Literary Awards, a national writing competition which champions talented writers who lack opportunities. She also appears regularly to speak to university students, and at publishing conferences and events, about editing, publishing, and literature development, with a special interest in promoting diversity and inclusivity in the sector. She is a member of BAME in Publishing.