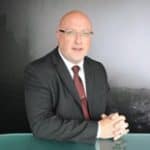 Alistair Shields
Group Commercial Services Director, VW Group
Alistair Shields is 53 years old and was borne in Portadown, Northern Ireland. He moved to England at a very early age and completed his formal education at King Edwards VI Grammar School in Birmingham, before taking up further education studies in Finance & Business in Bristol.
Currently Alistair is the Group Commercial Services Director with Volkswagen Group United Kingdom Ltd and Chairman of the VW Group Pension Scheme. He is responsible for the core commercial activities of: Fleet services, used vehicle remarketing, vehicle logistics, economic & market insight and research, training & development, and the VW Group's strategic planning and change management activities for the five core brands VW Passenger Cars, Audi, Skoda, SEAT and VW Commercial Vehicles.
Alistair has been married to Karen for over 30 years and has three children, Rebecca (27), Bethany (24) and Callum (22).
Previous Career History:
3 years with Volkswagen Group UK as Group Services Director.
10 years with Volkswagen Financial Services (UK), 3 years as Manager Director, 2 years as Risk & Corporate Services Director with VW Bank and 5 years as Director of Risk Management
6 years with ALD Automotive Group, senior management positions in finance and general credit & risk management
3 years with Prudential Assurance, senior management positions covering general insurance and credit risk, audit and compliance
8 years with HSBC in multiple roles – retail branch sales management, corporate and retail risk, M&A, management accounting, asset securitisation
Specialties: Organisational & management leadership, strategy development and execution, project and programme leadership, risk management, insurance, management accounting, purchasing and supplier management, investment management for pension schemes and pension scheme governance
Alistair's participation has been made possible through Speakers for Schools partnership with the UK Automotive 30% Club and his school talks will include a focus on inspiring girls to consider opportunities in the automotive sector and encouraging all students to aim high.