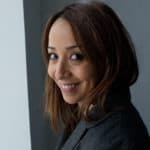 Elham Saudi
Director, Lawyers for Justice in Libya
In her role as Director, Elham has worked on fact finding in connection with investigations into alleged human rights violations in Libya in the period since 15 February 2011. She has also provided advice to a number of European governments and international bodies in relation to the 2011 conflict in Libya. In addition, Elham advised the National Transitional Council in Libya on a number of matters of international law, including the drafting of its guidelines for opposition fighters. Most recently, as part of LFJL's Destoori project, she accompanied a team of Libyan lawyers and social activists, who travelled to over 35 locations across Libya in order to engage members of the public in discussions about the constitutional process. She also was keynote speaker at Chatham House's 'Milestones in International Criminal Justice' event, at the 'Through the Lens of Nuremburg: the International Criminal Court at its Tenth Anniversary' event, and speaks regularly at the UN Human Rights Council in Geneva and the African Commission. She was a speaker at the Hay Festival Beirut, talking about women's rights in Libya as well as the end of dictatorship and the road to democracy. Elham's media appearances include Radio 4, Channel 4 News, BBC News and Al Jazeera.
After finishing her degree in Arabic and Modern Middle Eastern Studies at the University of Oxford, Elham studied law at Nottingham Law School. Elham practiced commercial law at Slaughter and May, a leading corporate law firm in the City of London, from 2003 to 2010. In that period, she had a finance practice and her clients included Arsenal Football Club, Cadbury plc, Whitbread plc, COLT, and the World Bank.
She completed an LLM in International Law at the School of Oriental and African Studies in 2011, obtaining a Distinction. Her focus was on international human rights law and international humanitarian law, with her dissertation entitled "The 'Protected Revolution': The Libyan Uprising and the Responsibility to Protect."
Elham is also an Associate Director at Rare and an Associate Fellow at Chatham House.
Elham is fluent in Arabic, English and Spanish.