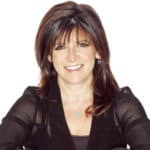 Emma Freud OBE
Producer & Director, Red Nose Day
Emma Freud has been working with Comic Relief for over 20 years, together with her partner, the comedy scriptwriter Richard Curtis. Having started stuffing envelopes, she is now Director of Red Nose Day, and was awarded with an OBE in 2011. Emma was a co-creator of the Make Poverty History campaign, and a producer of the Live 8 concerts.
Emma is also a TV presenter and media commentator for the BBC, ITV and Channel 4. She has presented for BBC Radio 1, and is a regular contributor to Radio 4's Loose Ends. Emma has worked as a reporter on LWT's The Six O'Clock Show, hosted Night Network's chat show Pillow Talk, and presented Channel 4's arts programme The Media Show. For ITV she hosted 27 hours of continual live television on the Telethon, and a weekly arts magazine programme Theatreland. She also presented the BAFTA Awards (BBC) and The Turner Prize (Channel 4). She's the presenter of National Theatre Live – broadcasting National Theatre shows to cinemas all over the world. And alongside writing for many papers, she is the gadget columnist for Tatler.
For the last 20 years, she has been script editor, and then co-producer, of the films and TV programmes made by Richard Curtis, including Four Weddings and A Funeral, Bridget Jones' Diary, Notting Hill, Love Actually and The Vicar of Dibley. Most recently she was associate producer on About Time. She'd quite like a little lie down.