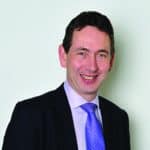 Marcus Gover
CEO, WRAP
Marcus Gover has worked in the environment sector for over 25 years and is currently Chief Executive Officer of WRAP in the UK.
WRAP is a not-for profit organisation working with governments, businesses and citizens to create a world in which resources are used sustainably. Its experts generate evidence-based solutions to protect the environment, build stronger economies and support more sustainable societies. WRAP's impact spans the entire life-cycle of the food we eat, the clothes we wear and the products we buy, from production to consumption and beyond.
Before WRAP, Marcus was Commercial Director of Biojoule, a small start-up renewable energy company making wood pellets from forestry residues and energy crops. Prior to Biojoule, he was a Director of AEA Technology Environment – an international technical services business that is now part of Ricardo. During his time with AEA, he led technical research programmes, ran an emissions monitoring business, managed a water engineering company, oversaw an outsourced waste management operation and set up an office in China.
In his spare time, apart from doing his best to help bring up three daughters, he is Chair of Ridgeway Education Trust which comprises Didcot Girls School and St Birinus School.
Marcus has a degree in chemical engineering and a PhD in combustion from Imperial College, London. After an initially technical career, he studied for an Executive MBA at Cranfield School of Management before taking on more senior management roles. He is a Fellow of the Institution of Chemical Engineers and a Corporate Member of the Chartered Institution of Wastes Management.