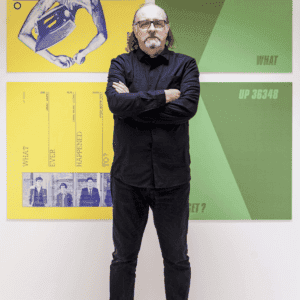 Professor Malcolm Garrett RDI
Artistic Director, Design Manchester and Creative Director, Images&Co
Malcolm Garrett is Creative Director at Images&Co, the creative partnership with Kasper de Graaf established in 1981, when together they produced the ground-breaking magazine 'New Sounds New Styles'.
Malcolm is widely regarded as a key influence on the development of contemporary British graphic design. As a punk at art school in Manchester in 1977 he founded the innovative graphic design group Assorted iMaGes, and subsequently created landmark designs for Buzzcocks, Duran Duran, Boy George, Simple Minds and Peter Gabriel.
He moved to London in late 1978 to work at the heart of a music and lifestyle industry in regeneration, and in 1983 went on to establish 'The Bank', the first collective home for artists, designers & creatives in what was then a derelict Shoreditch in East London. Always pushing boundaries, he introduced computers into the design studio in the mid-80s, and subsequently became one of the first designers of his generation to apply himself entirely to interaction design and design for digital platforms. In 1994 he established the pioneering digital agency, AMX, one of the first in Shoreditch (now known as 'tech city'), working with numerous corporate clients as well as other musicians such as Orbital, Oasis, Iron Maiden and Spice Girls. He subsequently spent a period from 2003 to 2005 as Creative Director at immersion Studios in Toronto where developed storylines and user interfaces for interactive cinema installations.
In 2000, he became the first RSA Royal Designer in what was called 'new media' and elected 'Master of the Faculty' from 2013 to 2015. Recognised with a number of Honorary Professorships and Doctorates; one of the first 10 designers to be inducted into the Design Week 'Hall of Fame' in 2015; in 2017 he was nominated as one of Creative Review's 50 'Creative Leaders'. Malcolm is noted for his collaborative and user-focused approach to design, which he refers to as 'connected communications', as well as his commitment to design education at all levels from primary through to third age.
Malcolm is an Ambassador of Manchester School of Art, is a member of the Sir Misha Black Awards Committee, and is a Founder and Artistic Director of the annual Design Manchester festival, now in its seventh year.