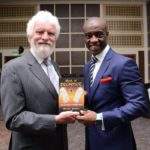 Stanley Jackson
Chairman, F4 Group Limited
Stanley Jackson is a successful business man who describes himself as a compulsive entrepreneur – his current business is the third that he has started so far in a career spanning more than 50 years ….
Stanley is Chairman of Performing Artistes which he set up 24 years ago and which has grown from modest beginnings into an international business that now supplies well known personalities from politics, sport, entertainment and the media to a variety of major events around the world
Stanley is the author of three books plus a musical based on Charles Dickens' "A Tale of Two Cities".
His latest book is called 'The Book of Decamot' and was published by Xlibris in the US but immediately spawned a UK variant which is proving very popular as a creative writing programme in UK schools.
Not surprisingly, his talk is entitled 'The Entrepreneurial Spirit'