HarperCollins launches book club with Speakers for Schools
Source – The Bookseller, 26 March 2021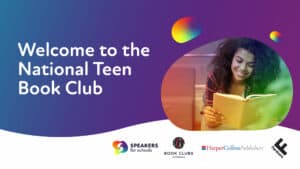 Educational equality charity Speakers for Schools is teaming up with HarperCollins on virtual book clubs for young people who have missed out on learning over the past year.
Alongside Book Clubs in Schools, an organisation delivering interactive weekly book clubs, it has piloted the National Teen Book Club with more than 150 schools and 1,500 young people reading the same book, I Have No Secrets by Penny Joelson (Farshore), over the past six weeks. A full version of the scheme launches in June.
The pilot includes readers that are usually harder to reach. More than half are boys, a third of the participants are from ethnic minorities and just under half are on free school meals.
Cally Poplak, executive publisher at Farshore, said: "Farshore's latest research shows that the decline in children's reading for pleasure accelerated during lockdown, with only 23% of children (aged 0-17) reading daily or nearly every day. We are committed to reversing this trend, so that all children have access to the benefits that come with being a reader for pleasure – from wellbeing to educational attainment. This is why we are delighted to work with partners such as Speakers for Schools in support of its goal to reach teenagers, who have missed out on reading for pleasure during the pandemic."
On 24th March, the schools came together online to celebrate the finale of the National Teen Book Club for a Q&A with Joelson to discuss her book.
I Have No Secrets tells the fictional tale of 14-year-old Jemma who has cerebral palsy. Unable to communicate or move, she relies on her family and carer for everything. She has a sharp brain and inquisitive nature and knows all sorts of things about everyone. But when she is confronted with a terrible secret, she is utterly powerless to do anything.
Joelson said: "It has been great to see so many young minds excited about Jemma's story and I look forward to answering their questions about her. I also look forward to sharing my story with them and hopefully inspiring the next generation to consider a career in writing."
Alison Palmer and Beth Ginsburg, directors of Book Clubs in Schools, added: "With regular school closed, we have sorely missed the opportunity to spark children's imagination through reading and discussing books. We are excited to partner with Speakers for Schools to extend our clubs virtually and to introduce exciting writers and creative leaders through the National Teen Book Club events."
To find out more and register for National Teen Book Club, go to Speakers for Schools website.