How I became a published author – Ellie aged 14, from Surrey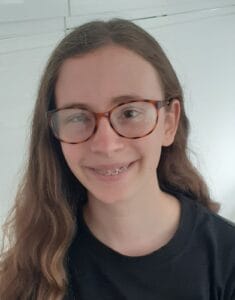 What would you do if I told you that there was a virtual work experience out there for teenagers aged 14-19, that involves reading, writing and chatting? If the very prospect of something like this gets you excited, then the National Teen Book Club is perfect for you!
In June, I first participated in the National Teen Book Club last school year. Of course, I knew it would be good, but I had no idea how much I would love logging onto Google Classroom every Wednesday and having a whole hour of book-related fun.
One of my favourite parts about this work experience is the social aspect of it. Everyone comes together to read a specific book, and each Wednesday, we get to discuss it in breakout rooms. As daunting as this sounds, everyone is so friendly and enthusiastic that I always feel I can truly be myself – my book-loving, writing-obsessed self – and have fun while doing it!
The speakers are another brilliant part of the National Teen Book Club. They are so inspiring, with their own unique stories to tell. They all come from very different backgrounds and jobs, from authors to literary agents, editors to illustrators. Hearing from them has given me so much insight into the publishing industry and encouraged me to pursue my dream of working in that sector. Each speaker offers lots of advice, and having the option to ask questions through the Q&A makes the experience even more special and worthwhile – particularly if you are considering going into the publishing industry.
For many years it's been my dream to be an author. However, taking part in the National Teen Book Club has helped me realise that there are many careers out there that involve reading, writing, and publishing. Being an author is still one of my biggest dreams, but I now feel that being an editor or a literary agent are other possibilities I might also want to consider. I can honestly say that I have learnt a vast amount from being a part of the National Teen Book Club, and learning about the different career paths and options has hugely benefited me as I think more about what comes next after school.
As I mentioned earlier, my biggest dream is to be an author, so I truly appreciate the opportunity this work experience gives to become a published author. Each placement spans several weeks, and throughout the sessions, participants are given small tasks to complete outside of the sessions. These tasks include Researching, Storyboarding and Editing, and are in preparation for writing a 1,000-word short story based on a theme chosen by the National Teen Book Club. So far, I have taken part in three placements, and I have had the chance to write a historical fiction piece, a crime/mystery piece, and a diary entry spanning over a decade. At the end of each placement, every young person gets their short story published in an online 'virtual' library, which means I have had three of my stories published so far.
Another amazing thing about the National Teen Book Club is that any young person who submits a short story also has the chance to win a writing masterclass with the author of the book the group has been reading together throughout the placement. Four lucky winners are picked to receive this prize each time, so that's another great reason to take part.
I would highly recommend the National Teen Book Club to anyone aged 14-19 because it's so much fun that you don't even realise that it's also educational. It is a once-in-a-lifetime experience that teaches you so much, especially if you are interested in pursuing a career in publishing. You'll meet amazing people and get to share the experience of reading a thought-provoking book with hundreds of other teenagers. I know that I've benefited from being a part of this experience in many ways – it's really helped me learn about the publishing industry and improve my skills such as confidence and creativity.
My advice for young people who are considering signing up is to go ahead and do it! Don't be afraid; just be yourself and enjoy every bit of it. Everyone in the National Teen Book Club is different, but we all have one main thing in common – we all love reading or writing. If you can relate to that, I promise you'll love it.
The weekly one-hour sessions are held every Wednesday and take place after school.