Our Work Experience for All campaign makes a splash!
Following the spectacular launch event at London's South Bank on 27th April, our Work Experience for All campaign is now LIVE! To mark the launch, 150 guests from a wide range of industries were treated to a scintillating evening's entertainment at WPP's state-of-the-art offices overlooking the Thames and many of London's most iconic landmarks.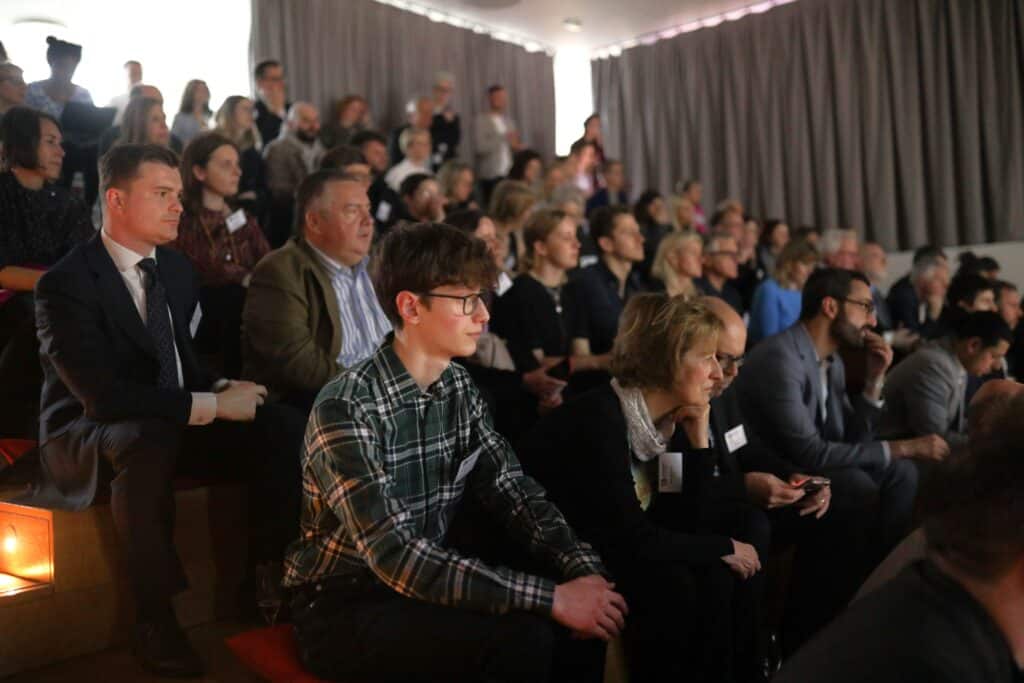 Standing room only!
It may have been raining outside, but the weather in no way dampened people's spirits. Umbrellas and coats were quickly shed and set aside, as every red cushion on every bench in the auditorium became occupied – with many more people lining the stairs and filling the upper gallery.
WPP's CEO Karen Blackett took to the floor first to extend a warm welcome to all those who had braved the April showers to attend the event, closely followed by own CEO Nick Brooks who spoke passionately about the scale of the current social mobility crisis in the UK and why each of us has a part to play in levelling the playing field for young people from less privileged backgrounds. 
Introducing the national campaign launch 
Hot on Nick's heels, our Chief Marketing Officer Dan Walsh took over the mic to drive home the campaign's core message that every young person deserves a work experience story.  
To help bring the campaign to life, Dan shared a sneak preview of a series of hard-hitting digital ads produced with Lucky Generals (who donated their time pro-bono) featuring thought-provoking slogans such as 'Don't let the nepo babies win.' 
Keep your eyes peeled after reading this, as these ads will be emblazoned across billboards up and down the country and rolling out online across paid socials to maximise public awareness of the campaign.
In addition to the eye-catching ads, Dan also explained the rationale behind the recent LinkedIn Takeover that may have been featured in your feed already. Another original initiative by Lucky Generals to create a buzz around the campaign, this idea involves campaign supporters changing their LinkedIn profiles to feature an image of their teenage self and reference their past work experience then encouraging their followers to do the same to create a ripple effect. To find out more and take part yourself, follow this link.
After sharing a laugh or two reflecting on the haircuts and fashions of our youth, the audience was then treated to the first official airing of our star-studded campaign video. This two-minute video features an impressive line-up of celebrities, including business gurus Mary Portas and Deborah Meaden, chef Tom Kerridge, comedians Guz Khan and Rosie Holt, TV presenter Steph McGovern and others all sharing insights into their own surprising work experience stories that varied from working as a bingo caller to saving DIY chain B&Q thousands of pounds. 
On stage with Robert Peston
The evening continued to deliver yet more surprises as next the charity's founder Robert Peston bounded on stage to pledge his support and then welcome a panel of special guests – Virgin Atlantic's Estelle Hollingsworth, teacher and TV presenter Bobby Seagull, and children's TV presenter Ed Petrie. 
As you would expect, Robert kept his audience enthralled and amused as he skilfully teased out his guests' stories of their own work experience as well as their personal motivations for getting involved in the campaign. The rapturous applause of those who attended the event in person left us with no doubt that, despite the inclement weather and audio problems with the LinkedIn live stream, the event was still most definitely a splash. 
In case you missed it…
For those of you who were unable to make the event – or who regrettably experienced issues with the audio for the live stream event – here's a quick round-up of what you missed.  
150 guests joined us to celebrate the launch in person
Opening address delivered by WPP's CEO Karen Blackett 
Presentations by CEO of Speakers for Schools Nick Brooks and CMO of Speakers for Schools Dan Walsh 
Preview of the campaign's ads and star-studded video
Our LinkedIn Takeover explained – Your chance to get involved
A panel discussion chaired by Robert Peston with Virgin Atlantic's Estelle Hollingsworth, teacher and TV presenter Bobby Seagull, and children's TV presenter Ed Petrie.
Ready to pledge your support? Add your name to our petition here.